Lies We Tell Ourselves: Winner of the 2016 Inaugural Amnesty Honour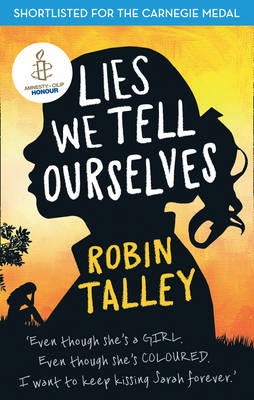 By Author / Illustrator
Robin Talley
Genre
Representation & Inclusion
Age range(s)
14+
Publisher
HarperCollins Publishers
ISBN
9781848452923
Format
Paperback / softback
Published
03-10-2014
Synopsis
***SHORTLISTED FOR THE CARNEGIE MEDAL 2016*** ***WINNER OF THE INAUGURAL AMNESTY CILIP HONOUR 2016***
Lie #1: I'm not afraid
Lie #2: I'm sure I'm doing the right thing
Lie #3: I don't care what they think of me
It's 1959. The battle for civil rights is raging. And it's Sarah's first day of school as one of the first black students at previously all-white Jefferson High.  No one wants Sarah there. Not the Governor. Not the teachers. And certainly not the students - especially Linda, daughter of the town's most ardent segregationist.  Sarah and Linda are supposed to despise each other. But the more time they spend together, the less their differences matter. And both girls start to feel something they've never felt before. Something they're determined to ignore.  Because it's one thing to stand up to an unjust world - but another to be terrified of what's in your own heart.
'The main characters are terrific in what is a moving YA novel. And an important one.' - The Telegraph'.   'With great characterisation, tough issues covered, and a plot which had me guessing right up until the last pages, this is a must-read. Massively recommended!' - The Bookbag
Reviews
Camila
I do recommend this book and enjoyed reading it. The story explores many issues and is able to present the realistic characters in a way that truly gets you to understand their thoughts and feelings.
Suggested Reading Age 14+
Kimea
It is a great book at teaching about how white people first acted towards segregation. It is well written and has me entertained for the whole story. It can be a bit hard to read in sections because of the way some racist slurs are used.
Suggested Reading Age 14+
Melanie
I found Lies We Tell Ourselves very difficult to put down. It's the first day at school and Sarah's understandably nervous. She's met at the gates by crowds of angry faces swearing, shouting and spitting at her telling her she's not wanted and she should go back to her old school. There are police and teachers looking on but they do nothing to help.
It's 1959; Virginia, Southern USA, and today Sarah is starting term at Jefferson High one of the the first black students in a previously all white school. Sarah and her friends force themselves to remain calm and unresponsive to this abuse while they seethe inside, knowing that the torment they endure will smooth the way for other black students in the coming years.
Linda is the daughter of one of the towns biggest supporters of segregation, and she fully supports it herself by her actions and writing editorials in the school newspaper. The two girls are thrown together as they are forced to work on a French project together. Over time they both confront buried truths about themselves and find their way through the lies they have grown up with. Struggling with issues of race prejudice, but also sexuality they come to accept each other and themselves for what they are.
A very strong book which I whole heartedly recommend. The themes make it suitable for use in PHSE, RE and ethics, English, History in fact it would make a great whole school cross-curricular book.
368 Pages / Reviewed by Melanie Chadwick, school librarian
Suggested Reading Age 14+
Other titles