Life on Earth: Space: With 100 Questions and 70 Lift-flaps!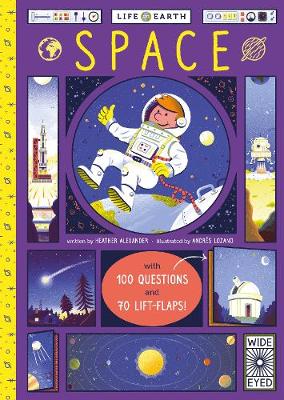 By Author / Illustrator
Heather Alexander, Andres Lozano
Genre
Adventure
Age range(s)
7+
Publisher
Wide Eyed Editions
ISBN
9781786030566
Format
Board book
Published
22-03-2018
Synopsis
Life on Earth: Space is the perfect introduction to our universe for 5+-year-olds. With 100 questions and 70 flaps to lift, this beautifully illustrated board book keeps kids engaged while learning.

Lift the flaps to find the answers to common questions, such as, 'How does a telescope work?', 'Why can't a plane fly to space?' and 'What is a dwarf planet?'

Topics covered include astronaut training, planets and stars, space-exploration equipment and life in space, among many more. Scientific details are turned into simple, bite-size facts that the reader lifts the flaps to discover.

Heather Alexander's colourful illustrations make each fact memorable, and the sturdy, board book format means that even the most hands-on learners will have fun playing with the book day after day.

Perfect to read out loud to your child, or to let them explore on their own, Life on Earth: Space offers a simple, fun way into astronomy and space exploration for little readers.
Reviews
Samantha
If you have a budding young scientist at home then this most definitely is the book for you. At first glance one might be forgiven for thinking that this is a book meant for a much younger child or early reader. It's board book style and simple pictures are more commonly found in simple first picture books; aimed at young readers who have yet to gain the fine motor skills or dexterity for turning pages with care. This is most certainly not the case, this book would effectively benefit children in KS2, 8+ years. Part of the Life on Earth Series; Space, written by Heather Alexander, is crammed full of interesting facts about space. Each page or double page spread covers a particular aspect of Space including; The Sun, The Moon, Ways to explore space, Space travel and beyond the solar system. Questions are asked and answered clearly and concisely using language suitable for a primary age child without confusing or complicating their understanding. Questions such as 'What are Solar and Lunar Eclipses?', 'Is it possible to see the black hole?' and 'What does the Moon smell of?' are posed on small illustrated flaps, which when lifted reveal the answer.& This would be a great book to share either as a group of young scientists or as a parent and child. The opportunity to pose a question and discuss the answer first, before it is revealed, is just like a mini quiz in itself, where the answer can only be read once the flap is lifted. Many of the commonly asked questions such as 'How long does it take for the Moon to Orbit the Earth?' are answered in this book, there are also some rather more obscure questions such as 'What happens to an Astronaut's eyeballs in Space?' too. Unlike most regular non-fiction books, this book does not have a content or index page and I feel is aimed more at an interested, enthusiast at home rather than a classroom research text. However I am certain that if found on a bookshelf in school it would most certainly be well read. Its 'lift the flap' format will allow those readers who may perhaps still lack the stamina to read through a regular book to focus on individual questions and answers without having to read through large 'chunks' of text. I really enjoyed this book and learnt some interesting things about Space and while I am certain no end of primary age children would eagerly pore over its pages of interesting facts, its design would make its durability within a classroom or multi-user environment limited. However, this would make the ideal book gift for an inquisitive young mind. 16 pages / Ages 8+ / Reviewed by Sam Phillips, teacher.
Suggested Reading Age 7+
Lizi
This non-fiction book answers 100 questions about Space. Each page has a combination of lift-flaps, illustrations and text boxes that are designed to look bright and engaging. The sentences are simple and use subject specific terminology. This book would be good for children who have expressed an interest in space, but the lack of any index/contents or subheadings may make this book a little challenging for simply introducing space, or for researching specific facts. This book would be engaging for children who are keen on non-fiction, and the lift-the-flap parts make it engaging to younger readers. 16 pages / Ages 7-9 years / Reviewed by Lizi Backhouse, teacher.
Suggested Reading Age 7+
Other titles