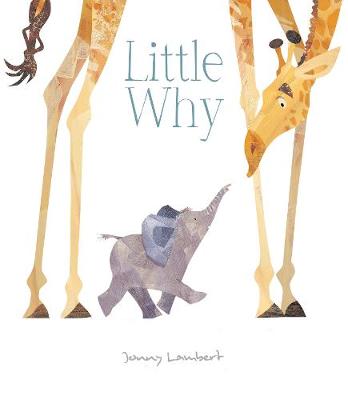 By Author / Illustrator
Jonny Lambert
Genre
Adventure
Age range(s)
3+
Publisher
Little Tiger Press Group
ISBN
9781848691834
Format
Paperback / softback
Published
11-02-2016
Synopsis
Little Why just can't stay in line. There is so much to see - like Giraffe's long-lofty leggy legs and Wildebeest's spiny-spiky horns. Why can't he have legs and horns like them? And then Little Why spots Crocodile's snippy-snappy teeth... Look out!
With stylish and striking art from Jonny Lambert, Little Why is a visually stunning picture book with a heart-warming message at its core. Children will love Little Why's adorable, excitable character and discovering the different animals in the African savannah. A perfect story book for gently introducing themes of positive body image and the dangers of toddlers and little children running away from their parents.
Reviews
Ellie
At the back and in between the Elders, Little Why the elephant just can't stay in line. He's amazed at the spiny-spiky special horns of Wildebeest, the long lofty leggy legs of Giraffe, the speedy spotty fuzzy fur of Cheetah and the snippy-snappy snazzy snout of Crocodile. He desperately wishes he could have all of these attributes, imagining the fun he could have, and asking why he can't. After being ordered once again to get back in the line, he sulks; if only he had fancy feathers like Bird he could flutter and fly away, if only, if only... As they finally reach the watering hole, the Elders remind Little Why of his fantastic flippy-flappy ears, his super-squirty trunk and the fact that he is special just the way he is. A simple fable with beautiful artwork full of character and humour. Young children will enjoy looking at the vibrant illustrations of the animals and talking about what makes each one different. A lovely book to show children that it is our differences that make us special. Picture book / Ages 3+ / Reviewed by Ellie Williams.
Suggested Reading Age 3+
Rose
This is an entertaining picture book which describes how Little Why the baby elephant - gender unspecified - finds it hard to keep to his/her place in the line of elephants, holding on trunk-to-tail. Little Why keeps getting distracted by all the fascinating creatures which pop up along the way. Every time Little Why strays to investigate and admire these animals he/she is ordered back into line and keeps asking why. Little Why hankers after each animal's special attributes - twisty horns, long legs etc but learns at the end of the story that he/she is actually special just the way he/she is. The colour range of the collage-like illustrations is quite muted but very evocative of the colours of the African plain and beautifully presented. There is a nice 'small elephant's-eye' view of the bigger animals which would appeal to small children, constantly looking up to grown ups. The faces of the animals are nicely expressive. The language is appropriately simple, but also poetically and amusingly alliterative. A useful book for the early years zoo topic, and for story sequencing. Picture book / Ages 3+ / Reviewed by Rose Palmer, school librarian.
Suggested Reading Age 3+
Other titles