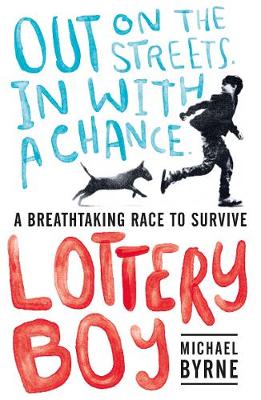 By Author / Illustrator
Michael Byrne
Genre
Real life
Age range(s)
11+
Publisher
Walker Books Ltd
ISBN
9781406358292
Format
Paperback / softback
Published
07-05-2015
Synopsis
A fast-moving and gripping thriller with a powerful emotional engagement; this is a young boy's story of loss and unbearable hope as he survives on London's streets.
Reminiscent of Slumdog Millionaire, this contemporary adventure story set on the streets of London follows a boy whose luck is about to change. Since his mother's death, Bully has lost his old life. Living rough with his dog, Jack, he can't imagine his future. But one day, in the last birthday card she ever gave him, he finds a winning lottery ticket, a last gift from his mum that suddenly offers such hope. If only he can get to his prize on time. Life is not that simple. Bully's struggle to survive has just got a whole lot harder. They're after him on the streets, everyone wants a piece of him. And even if he does claim all that money, will he really be winning what he needs the most?
Reviews
Hayley
London is as much a character in this book as Bully and Jack the dog. The city is clearly well-known and well-loved by the author and the level of detail adds a poignant quality to this already moving story. The story itself has a simple basis - a homeless, underage boy has a winning lottery ticket and must fight to not only keep the ticket, but also find a way to claim his winning; but so much more goes on around this plot that the promise of a life-changing amount of money seems inconsequential. Homeless Bully is grieving the loss of his mother. His stalwart companion is his mongrel dog Jack, who is both Bully's saviour and his conscience. The story is not a happy one and the reader is often left frustrated by the injustices that Bully and Jack suffer, but the honest love that is evident between the young boy and his dog make it all worthwhile. The book is very well written, with the dialogue flowing easily and incorporating many of the habits of actual speech. Each character is well defined and even those who only play a marginal role are not wasted or surplus to the plot. It's a fantastic debut and will hopefully be the first of many books from this promising writer. The book would be perfect for a reading group of teenagers, from 12 upwards (there are some instances of violence and bad language in the books and some of the subject matter is not suitable for younger readers), as there is plenty for them to discuss. I would give this book 5 out of 5 and I would recommend it to children aged 12+. 288 pages / Ages 12+ / Reviewed by Hayley Nicholson, librarian.
Suggested Reading Age 11+
Other titles