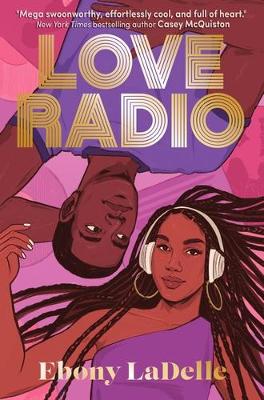 By Author / Illustrator
Ebony LaDelle
Genre
Romance & Relationships
Age range(s)
14+
Publisher
Usborne Publishing Ltd
ISBN
9781801313452
Format
Paperback / softback
Published
26-05-2022
Synopsis
"LOVE RADIO is mega swoonworthy, effortlessly cool, and full of heart. Turn this one all the way up", Casey McQuiston, New York Times bestselling author of RED, WHITE & ROYAL BLUE and ONE LAST STOP.
"Prepare to swoon, LOVE RADIO gives voice to some of the sweetest hopes and the hardest truths. Readers won't be able to get enough of these dope ass characters", Elizabeth Acevedo, Carnegie Medal winning author of THE POET X and CLAP WHEN YOU LAND.
Clear your TBR pile for this slick, heart-melting romance for fans of Jenny Han and Nicola Yoon. Prince Jones is passionate about music and romance, dishing out relationship advice on his Love Radio show. But his own love life is looking kind of quiet... Until he meets Dani Ford. Dani isn't checking for anybody. She's focused on her plan to move to New York City to become a famous author, and avoiding dealing with what happened at that party a few months ago. When the two meet, sparks fly - but Dani's not looking to get derailed. So she gives Prince just three dates to convince her that he's worth falling for... Sometimes the best love story is the one you write yourself.
Reviews
Ruth
Love Radio is a great read about relationships. For the main characters, Dani and Prince, their initial attraction is no guarantee of a smooth path to romance. A previous unresolved experience makes writer, Dani, hesitant, unwilling to allow herself to be vulnerable. Broadcaster Prince, on the other hand, is an acknowledged expert on romance, giving out relationship advice on the radio, all the while flummoxed by the lukewarm response to his feelings from Dani.
As much as it is a love story, Love Radio is also a book which examines all sorts of relationships from romance, to friendship and family. It is also a story about young people approaching the next stage of their lives, making choices, feeling daunted yet excited about what the future holds.
Ebony LaDelle has written an authentic novel rich in the language of the lived experience of young people. I particularly enjoyed the descriptions of complicated emotions which captured well how tricky it is for young people to navigate relationships where strong feelings take centre stage and/or dominate decision making.
Love Radio is a great YA addition to a school library. It offers young people a down-to-earth romance to enjoy with great characters full of ambition and positive attitudes. With mature themes, this book should be considered as suitable for older students. I predict it will be a popular loan as the challenge in the blurb (Prince has just three dates to persuade Dani that he is worth falling for) will tempt any teen looking for a modern day love story.
336 pages / Reviewed by Ruth, school librarian
Suggested Reading Age 14+
Other titles