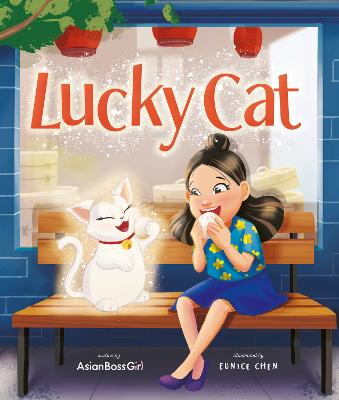 By Author / Illustrator
Melody Cheng, Helen Wu, Janet Wang, Eunice Chen
Genre
Representation & Inclusion
Age range(s)
5+
Publisher
Frances Lincoln Publishers Ltd
ISBN
9780711270459
Format
Paperback / softback
Published
06-09-2022
Synopsis
Lucky Cat is a heartwarming story about an immigrant family in America, and a new friend their daughter June makes as they prepare to open their restaurant.  June's family have a new home in America. There's plenty to do before their restaurant opens, but Mama is excited when she finds the previous owners have left a Lucky Cat! It's meant to bring good luck to their ventures, and June is even more excited the next evening when she finds that the statue can come to life.  But unfortunately, Lucky Cat doesn't seem that lucky. She has the best intentions but she knocks over the vinegar bottle, rips holes in people's clothing and sneezes on all the customers. Luckily, June learns that real luck is earned through hard work and perseverance as the family embark on a new venture, close to their hearts.

This beautiful book, authored by the hosts of the hugely popular AsianBossGirl podcast and packed with lively, characterful illustrations from the exceptionally talented Eunice Chen, tells a funny and uplifting tale of family love and fitting in in a new country.
Reviews
Jemma
Lucky Cat is a beautiful, uplifting story about an immigrant family living in America, trying to find their way in life. Their initial plans don't work out but everyone is delighted to inherit a lucky cat statue with their move. Lucky Cat is meant to bring good luck and fortune, and when it comes alive, the daughter June is completely overjoyed. However, as each new business venture fails, Lucky Cat seems to bring the opposite of luck.  Despite having good intentions, the bright and lively illustrations show the reader how Lucky Cat causes mischief time and time again. But June and her family persevere and learn that staying true to their hearts is what makes them successful.
My daughter loved this heart-warming book, and found the cute, cheeky Lucky Cat very relatable! After reading it together, we spoke about the importance of family and I told her (for the 100th time in the day!) how much I love her. This story encouraged us to take time to be together. We would highly recommend this charming book.
Picture book / Reviewed by Jemma Jeffrey, teacher
Suggested Reading Age 5+
Other titles