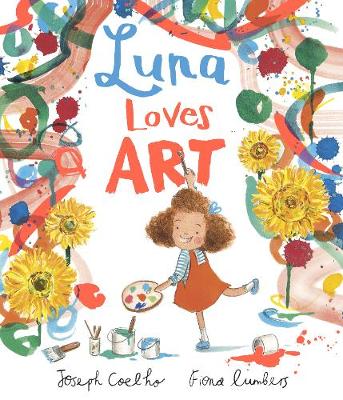 By Author / Illustrator
Joseph Coelho, Fiona Lumbers
Genre
Friends and family
Age range(s)
5+
Publisher
Andersen Press Ltd
ISBN
9781783448654
Format
Paperback / softback
Published
01-04-2021
Synopsis
At the gallery, Luna is transfixed by the famous art, but her classmate Finn doesn't seem to want to be there at all. Finn's family doesn't look like the one in Henry Moore's 'Family Group' sculpture, but then neither does Luna's. Maybe all Finn needs is a friend?
Join Luna and Finn at the Art Gallery and step inside famous works of art by Van Gogh, Damien Hirst, Henri Matisse, Andy Warhol and many more! Can you spot all the art?
Created by award-winning poet Joseph Coelho, this book follows Luna Loves Library Day as an introduction to different types of family.
Reviews
Sue
Luna is bursting with excitement. Today, her class are going on a school trip to an art gallery and mum is coming as a parent helper. Everyone is looking forward to going - except Finn. At the gallery, there is so much to see and do, but Finn is not behaving and there is obviously something wrong. Puzzled by his mean behaviour, Luna is comforted by her mum who suggests that Finn might need a friend. Luna tries and Finn starts to open up, sharing some of his feelings. By the end of the trip, they are all enjoying their art adventure.
This is a lovely story in many ways. Firstly, it is a celebration of art, introducing children to a whole host of works of art. The very talented Fiona Lumbers has done an amazing job of reproducing some iconic paintings and sculptures, gathering them together in a spacious, appealing gallery and showing the children's reactions to them. The end papers give the title, date of composition and name of the artist for each work, making it easy to find out more.
But the story is also about empathy and friendship. Finn's background is never explicitly shared with the reader, but as Luna makes a gesture of friendship, his reaction to the art helps to explain his behaviour and allows Luna's mum to offer some gentle guidance. Children may well see themselves reflected in Finn - or in Luna, as she tries to befriend him, although, initially, it seems like a difficult step to take.
A delight from start to finish, Luna Loves Art is perfect for sharing again and again.
Picture books / Ages 3+ / Reviewed by Sue Wilsher, teacher
Suggested Reading Age 3+
Other titles