Manju's Magic Muddle: A Bloomsbury Young Reader: Gold Book Band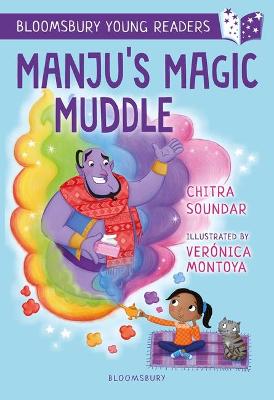 By Author / Illustrator
Chitra Soundar, Veronica Montoya
Genre
Magical Realism
Age range(s)
5+
Publisher
Bloomsbury Publishing PLC
ISBN
9781472970886
Format
Paperback / softback
Published
08-07-2021
Synopsis
A funny, magical story, ideal for children practising reading at home or in school. Manju's stuck at home and she is BORED. Looking for entertainment, she summons a genie. When he turns up with a terrible cold, the genie can't hear any of Manju's wishes properly and his magic is even more strange than usual. Can Manju help him sort out the muddle?  The characters from Manju's Magic Wishes return in this quirky comedy from Chitra Soundar, perfect for Key Stage 1 (KS1) children who are learning to read by themselves. It features illustrations from Veronica Montoya and hilarious mishaps that children will love.
Bloomsbury Young Readers are the perfect way to get children reading, with book-banded stories by brilliant authors like Julia Donaldson. With gorgeous colour illustrations and inside cover notes to help children get the most out of stories, this series is ideal for home and school. Guided reading notes written by the Centre for Literacy in Primary Education (CLPE) are available at bloomsburyguidedreading.com.
Reviews
Maria
Who wouldn't love a story about a genie who grants wishes to those who call on him? However a genie with a cold and who can't hear and gets the wishes wrong is going to cause some problems. Manju's Magic Muddle belongs to Bloomsbury's Early Readers and is a chapter story about Manju, a kind girl, her cat Cumin and the genie with a cold. Manju is bored at home and summons the genie to grant her wishes, which go slightly wrong, but good wishes prevail in the end!
This is a great story about friendship and kindness and shows positive relationships with Manju and Mrs Cox who lives in the retirement centre. The book is written in short chapters which is very appealing for young readers who will love this funny story. The illustrations are bright and colourful and help to support the story. The tips for grown ups and Fun Time activities are brilliant for developing reading skills and help parents, carers and teachers to support young children with their understanding and comprehension. A lovely book to develop reading skills. Well done Bloomsbury!
32 pages / Ages 6+ / Reviewed by Maria Faithorn, teacher
Suggested Reading Age 5+
Other titles