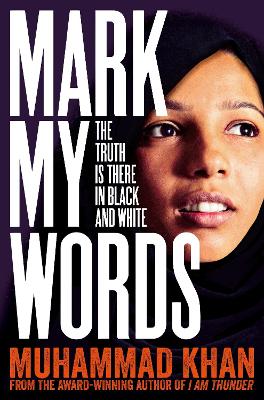 By Author / Illustrator
Muhammad Khan
Genre
Representation & Inclusion
Age range(s)
11+
Publisher
Pan Macmillan
ISBN
9781529029949
Format
Paperback / softback
Published
17-02-2022
Synopsis
Is the truth as simple as black and white? Mark My Words is the searing novel from Branford Boase Award-winner and 2020 World Book Day author Muhammad Khan, asking who you can trust when all you see is lies.

15-year-old Dua Iqbal has always had trouble minding her own business. With a silver-tongue and an inquisitive nature, a career in journalism seems fated. When her school merges with another, Dua seizes her chance and sets up a rival newspaper, exposing the controversial stories that teachers and the kids who rule the school would rather keep buried.

Dua's investigations are digging up things she shouldn't get involved with about family, friends and her community and as exams rattle towards her, she needs to make some hard decisions about when to leave things alone. But when she discovers that some kids at school are being blamed for selling drugs when the real perpetrator is right in front of their noses, she can't keep quiet any longer.
'A brilliant and powerful story that kept me on the edge of my seat. The protagonist is extremely compelling and relatable, a warrior through and through - you'll root for Dua the entire way!' - Nikita Gill. 'A bold and timely book about protest and finding your voice.' - The Observer

'A voice long overdue in British fiction' - Alex Wheatle on I Am Thunder.  'Khan has created a book steeped in drama and empathy, as well as providing two iconic superheroes' - Nikesh Shukla on Kick the Moon
Other titles