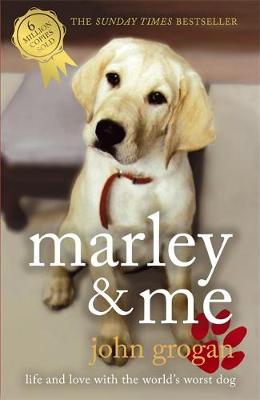 By Author / Illustrator
John Grogan
Genre
Real life
Age range(s)
11+
Publisher
Hodder & Stoughton
ISBN
9780340922101
Format
Paperback / softback
Published
26-07-2007
Synopsis
THE NO. 1 SUNDAY TIMES BESTSELLER THAT MOVED DOG LOVERS ALL OVER THE WORLD
**NOW A MAJOR MOTION PICTURE, STARRING OWEN WILSON AND JENNIFER ANISTON**
'A book with intense appeal . . . tenderly follows its subject from sunrise to sunset'
New York Times

'Not just a funny dog story . . . It's a universal story of family life and a publishing sensation' The Times

'Made me laugh so much I pulled a muscle in my solar plexus' Daily Mail

'A wonderful, moving book that even non-dog-lovers cannot fail to enjoy' Mail on Sunday

* * * * * *
The original book that moved millions of readers around the world and that inspired the major motion picture of the same name starring Owen Wilson and Jennifer Aniston.
This No. 1 Sunday Times bestseller tells the heart-warming tale of how a wiggly yellow fur ball of a puppy could grow into a barrelling, ninety-seven pound stramroller of a Labrador retriever who would prove that unconditional love comes in many forms.
John and Jenny were just beginning their life together. They were young and in love, with a perfect little house and not a care in the world. Along comes Marley, mischievous, hyperactive and so unruly he is expelled from obedience school. How could they possibly know that this incorrigible dog could teach them more about love for life than they could hope to teach him?
Since becoming a major motion picture, starring Jennifer Aniston and Owen Wilson, this heart-warming and unforgettable story of a family and their haphazard dog has become a timeless family favourite.
Reviews
Megha
Marley and Me is the beautifully woven story of mischievous and happy-go-lucky dog which will make you laugh out loud and bring tears to your eyes. If you are a dog lover, the loyalty and faithful attitude Marley showcases will augment the love you have for dogs.If you own a dog, it will let you appreciate that fact and if you do not own a dog, it will leave you with a deep craving for one.
Suggested Reading Age 11+
Other titles