Max Counts to a Million: A funny, heart-warming story about one boy's experience of lockdown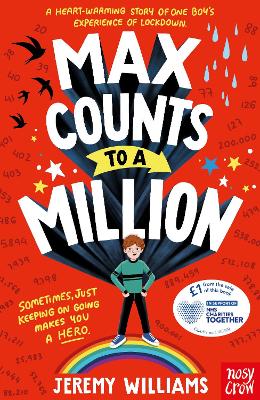 By Author / Illustrator
Jeremy Williams
Genre
Family & Home
Age range(s)
7+
Publisher
Nosy Crow Ltd
ISBN
9781839947308
Format
Paperback / softback
Published
03-03-2022
Synopsis
Do you like epic quests of amazing counting? Do you dislike global pandemics, being stuck at home, and the number 7? Then I have a story for you. It's about how I counted to a million during lockdown - with help from Mum and Dad, friends and neighbours, and Grandad. And some birds. And a bucket of marbles. And an awesome TV reporter.
Sometimes, just keeping on going makes you a hero. Eight-year-old Max is counting to a million. Normally, school or having anything interesting to do would get in the way, but school is shut and everyone has to stay home because the UK is in its first lockdown. Max's dad works at the hospital and counting helps Max with missing him, but as the pandemic progresses and Max's grandad journeys through his own battle with the virus, what starts as a distraction turns into record-breaking effort that brings Max's community together.
Suitable for readers aged 7 up, this funny, poignant, uplifting story reflects the experiences shared by so many during the Covid pandemic and celebrates how ordinary people accomplish epic things.  1 pound from the sale of every copy of this book will be donated to NHS Charities Together (Registered Charity Number 1186569).
Watch a video with author Jeremy Williams, plus Q&A
Reviews
Donna
A brilliant book! I'm sure many children would have felt just like Max during the beginning of the Covid pandemic. It took me back to when we were not quite sure how events would pan out. I love that £1 from the sale of each book will be donated to the NHS Charities Together.
Max's dad is a doctor who has to leave their house to stay in a hotel so that he doesn't bring Covid into their home. How he tries to explain the virus to Max is quite funny but not as funny as how Max visualises the virus! The book includes everything we went through during the first lockdown - online teaching, the lack of toilet paper, pasta and bread flour in supermarkets, not being able to see extended family, only going outside once a day to exercise and also communities coming together, discovering new places locally and noticing more nature.
The story contains a lot of humour but also covers sadness such as Max worrying when a family member catches Covid and how it affects their breathing, and how his dad can't say that the family member will be alright, because he doesn't know.
Max Counts to a Million would be an excellent class read for Year 2 or 3, and a good stimulus for discussions about children's own experiences and memories.
256 pages / Reviewed by Donna Ritchie, teacher
Suggested Reading Age 7+
Lisa
Max Counts to a Million is a funny, heart-warming story of eight-year old Max and how his life was suddenly affected by Covid-19. Schools are closed due to the pandemic and he is battling with the struggle of his dad being a key worker and his mum now working from home. One afternoon he is told to go to his room and 'count to a hundred', and Max decides to takes upon the mission of counting to a million - although he soon realises he has no idea how to go about this! Soon people begin to praise him for his efforts on the task and he begins to gain media attention. Max is more determined than ever to achieve his goal of getting to a million.
This is a story that children can relate to as it reflects their last two years of schooling throughout the pandemic. Max, like our children at school, had a lot to cope with in trying to make sense of how the world was changing and struggles with some of the restrictions suddenly forced upon him. It is interesting, as an adult, to see the past few years we have all experienced through the perspective of an eight year old, including lots of positives which came out of the pandemic.
The story and themes are suitable for children aged 7-8+.
256 pages / Reviewed by Lisa Watkins, teacher
Suggested Reading Age 7+
Other titles