Me, My Brother and the Monster Meltdown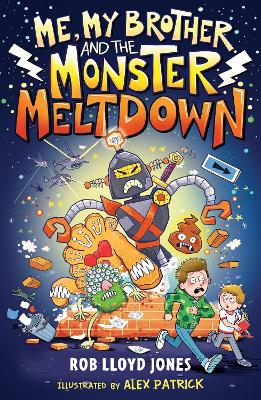 By Author / Illustrator
Rob Lloyd Jones, illus Alex Patrick
Genre
Funny Stories
Age range(s)
7+
Publisher
Walker Books Ltd
ISBN
9781529503517
Format
Paperback / softback
Published
07-07-2022
Synopsis
Comedy chaos breaks loose when two brothers' imaginary monsters come to life - in the supermarket! A laugh-out-loud adventure for fans of Dogman, the Treehouse series and Pamela Butchart books.

All the adults are freaking out. Giant monsters are smashing up supermarkets across the country. The army can't stop them and the prime minister is hiding in panic. A colossal six-headed gingerbread man, a massive emoji poo, a gigantic bouncing bum... Top scientists have no idea where they come from - or why they seem to hate supermarkets so much. But nine-year-old Otis has an idea. The creatures are exactly the same as drawings by his five-year-old brother, Jago: what if Jago brought his crazy creations to life with a magic pen? But their parents won't listen, so it's up to Otis and his pals to sort this monster mess out!
Reviews
Lauren
Me, My Brother and the Monster Meltdown is honestly one of the funniest children's books I have read this year. The story is set in Rottingdean (near Brighton) where some rather strange goings-on have been happening. The oddest monsters have been destroying supermarkets - six-headed gingerbread men, bouncing bottoms and even a ninja robot is involved. It isn't until Otis realises his little punk rocker brother, Jago, has been drawing and bringing his creations to life that they can start to solve the problems they are causing!! With a team of best friends, a rather useless bunch of adults and an army, it is down to the boys to save the world (and the day!).
I personally enjoyed the fact that the story was set near my hometown but also that the book was written with the help of Rob Lloyd Jones's children Jago and Otis - who also star in the story. The book mixes the humour of two children and a few Dad jokes (which helps the adults!).  It is a fun and engaging read and full of humour. I would thoroughly recommend this to all children, especially children who are in a reading slump or struggle as this will definitely get them out of it! I am hoping there are going to be more in the series.
157 pages / Reviewed by Lauren Maidman, teacher
Suggested Reading Age 7+
Other titles