Mia's Life: Fan Takeover!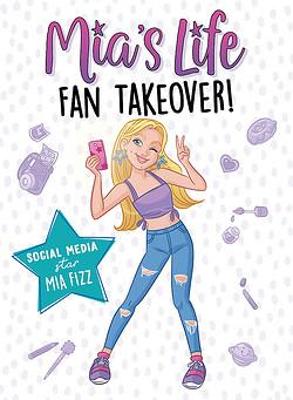 By Author / Illustrator
Mia Fizz, Lidia Fernandez Abril
Genre
Friends and family
Age range(s)
9+
Publisher
Sourcebooks, Inc
ISBN
9781728236001
Format
Paperback / softback
Published
06-04-2021
Synopsis
Famous YouTuber Mia Fizz has two problems: one, she needs to shake up the content on her channel. Two, her little sister Sienna's birthday is just days away, and she hasn't found the perfect present for a viral birthday reveal. In need of inspo, Mia turns to her beloved fans. It's time for a fan takeover! Each day Mia will have to do one thing her fans choose.
Things get complicated when Mia's followers challenge her to try something that's way outside her comfort zone--and she meets a cute guy in the process. Her fans pose a scary idea: what if Mia talks to him? Embarrassing moments, hilarious vids, and fan encounters ensue ... but will any of these wild challenges help Mia figure out what to get Sienna for her birthday?
Reviews
Jane
37 thousand 'Miacorns' have liked Mia's recent YouTube posts about Mia's Life: Fan Takeover release. It is aimed at tweens (not all of them girls) who like to hear one of their peers talking about things which feature highly on their radar: fashion, puberty, the opposite sex, friendship.
Admittedly, not all young people concern themselves with such things or follow the latest trends, but there are many who take inspiration and instruction from Mia. She seems very open about her life - even the intimate details and the times when she doesn't look or achieve her best. So, in Fan Takeover we see her taking a tumble when rock climbing for the first time (in preference to dancing which fewer of her fans had voted for) and being embarrassed over having a crush.
The other strand to the story, which reads like fiction, is her worry about not being able to find the perfect present for her younger sister Sienna's ninth birthday. Apparently, when you're a social media sensation, trips to the mall with your BFF can be less about shopping and more to do with meeting, greeting and posing with those who consider you their best friend. They won't be disappointed by Mia's foray into publishing, this time in print media and, after the last page is turned, will eagerly anticipate the next instalment.
176 pages / Reviewed by Jane Rew, school librarain
Suggested Reading Age 9+
Other titles