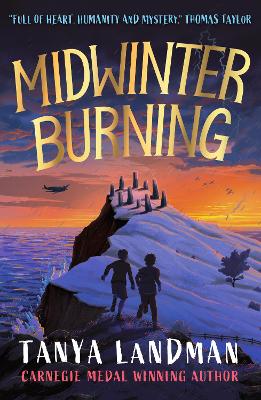 By Author / Illustrator
Tanya Landman
Genre
Historical Fiction
Age range(s)
9+
Publisher
Walker Books Ltd
ISBN
9781406397185
Format
Paperback / softback
Published
03-11-2022
Synopsis
A historical time-slip adventure for middle grade readers, from the Carnegie Medal-winning author of Apache and Buffalo Soldier.

Alfie Wright? Alfie Wrong, more like. Alfie has never really fitted in anywhere - he doesn't have any friends, and even his mum seems embarrassed of him. So when he's evacuated to a farm in rural Devon run by kind old Aunt Bell and her gentle giant of a son, Alfie can't believe his luck. The War seems a long way off, and among the cows and pigs and geese Alfie's happier than he's ever been - especially when he makes friends with one of the local boys, Snidge. But Snidge, for all his friendliness, is not all he appears. And the mystery that surrounds him seems to be connected to the Midwinter Burning, an annual ritual held at the Standing Stones, high up on the cliffs. Aunt Bell says it's all just a bit of harmless superstition, but when Snidge goes missing, Alfie finally discovers who his friend really is - and relives the true horror of the legend...
Author Tanya Landman reads from Midwinter Burning
Reviews
Sue
Evacuated away from London and his indifferent mother, Alfie Wright thrives in his new life with 'Auntie' Bell and her son, Ted, at Coombe Farm in Devon. A sensitive, different boy, he is no longer 'Alfie Wrong', but is cared for, managing to make friends with Smidge, a mysterious lad Alfie meets when exploring his new surroundings. However, as war is declared, talk in the village turns to the need for the village tradition of the Midwinter Burning at the ancient clifftop stones to continue to prevent the Darkness from returning. Eyes once again turn to Alfie, the outsider, and then Smidge goes missing. Can Alfie find the truth behind village legend and help his new friend before it is too late?
Tanya Landman is the author of some utterly compelling and engrossing stories and Midwinter Burning is no exception. The story weaves between the outbreak of World War II and ancient times, mingling the lives of two 'lonely little lads', whose friendship brings courage and comfort. As an adult, it is hard to read the cold indifference of Alfie's mother to her 'little accident' and this stands in stark contrast to the warmth and affection he receives at Coombe Farm as he becomes 'my birdie' to Auntie Bell, praised and encouraged as he helps out, flourishing under the positive attention.
The negative legacy of the First World War is also skilfully brought into the story as a veteran of that conflict, Mr Moore, was damaged both physically and mentally by his experiences. Cruelly treated and shunned by both adults and children living near Alfie in London, Mr Moore is a living reminder of a time most want to forget. Alfie alone treats him with kindness and as he sits with him, the reader can see that Alfie is sensitive to the 'indistinct, insubstantial shadows' Mr Moore talks to, paving the way for his later experiences with Smidge.
Midwinter Burning is rich in historical detail and vividly captures landscapes and characters. As it builds to its tense and exciting climax, the reader is left with the glow of hope that both Alfie and Smidge are set for a better future than the one they might have had, saved by their friendship across time. A brilliant read!
255 pages / Ages 10+ / Reviewed by Sue Wilsher, teacher
Suggested Reading Age 11+
Nathan
Midwinter Burning by Tanya Landman is an historical adventure story, steeped with mystery. The story is set at the beginning of World War Two in England. Alfie Wright, an evacuee, has left London for Devon, living on Coombe Farm with Auntie Bell and her son, Ted. Alfie Wright sees himself more as 'Alfie Wrong', with no friends, low confidence and a home life he is glad to leave behind. His luck looks set to change by being placed on the farm with the gentle, caring and loving Auntie Bell. He quickly settles into farm life: feeding and caring for the cows, horses and geese - life finally appears to be good for Alfie.  He also makes a friend, Smidge. However, Smidge is not as he appears and when the boy goes missing, the true legend and mystery of the Midwinter Burning soon begins to unravel.
I really enjoyed how the story drifts between Alfie and Smidge's different historical worlds and the special friendship they build. The ending of the story is tense and dramatic as their two worlds collide and the mysterious legend of the Midwinter Burning takes place.
I would recommend this book for children aged 9+ (Year 5 and 6). I can see how this book would fit perfectly into the curriculum in many ways. Firstly, as a whole class guided reading text as the pacey story with short chapters would work well. I would also use this text as a model text for writing units on historical settings, mystery and adventure story writing and obviously as part of a World War Two unit.
Thank you, Tanya. I thoroughly enjoyed reading this story and know the children will love this unique historical, adventure story. I can't wait to read the next story by Tanya Landman!
255 pages / Reviewed by Nathan Cox, teacher
Suggested Reading Age 9+
Other titles