Mindwalker: The action-packed dystopian science-fiction novel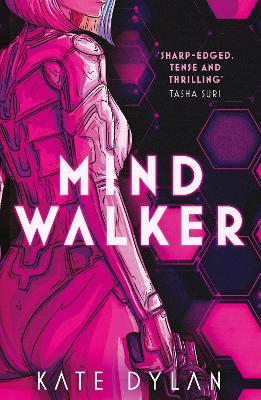 By Author / Illustrator
Kate Dylan
Genre
Science Fiction
Age range(s)
14+
Publisher
Hodder & Stoughton
ISBN
9781529392722
Format
Paperback / softback
Published
18-05-2023
Synopsis
DO NOT SURRENDER CONTROL.  Eighteen-year-old Sil Sarrah is determined to die a legend. But with only twelve months left before the supercomputer grafted to her brain kills her, Sil's time is quickly running out.  In the ten years she's been rescuing field agents for the Syntex corporation - by commandeering their minds from afar and leading them to safety - Sil hasn't lost a single life. And she's not about to start now.  But when a critical mission goes south, Sil is forced to flee the very company she once called home.

Desperate to prove she's no traitor, Sil infiltrates the Analog Army, an activist faction working to bring Syntex down. Her plan: to win back her employer's trust by destroying the group from within. Instead, she and the Army's reckless leader, Ryder, uncover a horrifying truth that threatens to undo all the good she's ever done.

With her tech rapidly degrading and her new ally keeping dangerous secrets of his own, Sil must find a way to stop Syntex in order to save her friends, her reputation - and maybe even herself.
'Mindwalker is a cinematic gut punch of action and espionage. Sharp-edged, tense and thrilling, you'll be holding your breath until the last page' Tasha Suri.  'The thrill ride of a lifetime' Kat Dunn.  'Pure adrenaline shot straight into your veins' Jesse Q. Sutanto.  'Utterly enthralling' Saara El-Arifi.
Reviews
Linda
Mindwalker is a sci-fi debut novel for 2023. The author has packed it full of action and twists and turns making it a fast-paced read. 18-year-old Sil is a 'Mindwalker' who has been trained to take over the minds of field agents and extract them from danger. She hasn't lost a mission yet and is determined to keep it that way until her supercomputer brain kills her. Time is quickly running out. When a critical assignment goes spectacularly wrong she ends up on the run, but without her computer implants how will she survive the real world? How will she be able to infiltrate the Analog Army in order to prove that she is no traitor?
The world building within the 311 pages of Mindwalker is so convincing that readers of 13+ will root all the way for Sil, who is a selfless heroine who wants to do right for her family, friends and the world. She also manages to throw in time for a little romance with her enemy Ryder.
If you are new to this genre, Mindwalker would be an excellent start point. I was gripped by the massive plot twist towards the end; I didn't see it that coming at all. Not sure if the author has this in mind but this debut novel could easily be the first of a series. This action packed sci-fi thriller is perfect for fans of Divergent, Hunger Games and Marvel films.
320 pages / Reviewed by Linda Brown, school librarian
Suggested Reading Age 14+
Other titles