Momo Arashima Steals the Sword of the Wind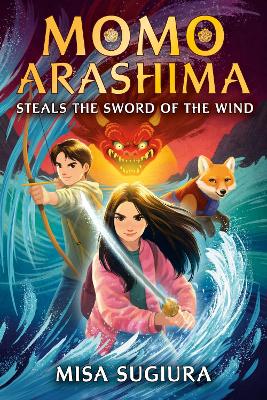 By Author / Illustrator
Misa Sugiura
Genre
Fantasy
Age range(s)
11+
Publisher
Penguin Random House
ISBN
9780593564066
Format
Hardback
Published
03-03-2023
Synopsis
A thrilling fantasy series about a twelve year old girl who sets out to save her Shinto goddess mother--and the world--by facing down demons intent on bringing chaos. 
All Momo wants for her twelfth birthday is an ordinary life--like everyone else's. At home, she has to take care of her absentminded widowed mother. At school, kids ridicule her for mixing up reality with the magical stories her mother used to tell her.  But then Momo's mother falls gravely ill, and a death hag straight out of those childhood stories attacks Momo at the mall, where she's rescued by a talking fox . . . and "ordinary" goes out the window. It turns out that Momo's mother is a banished Shinto goddess who used to protect a long-forgotten passageway to Yomi--a.k.a. the land of the dead. That passageway is now under attack, and countless evil spirits threaten to escape and wreak havoc across the earth.  
Joined by Niko the fox and Danny--her former best friend turned popular jerk, whom she never planned to speak to again, much less save the world with--Momo must embrace her (definitely not "ordinary") identity as half human, half goddess to unlock her divine powers, save her mother's life, and force the demons back to Yomi.
Find out more from author Misa Sugiura
"A grand adventure." --Brandon Mull, #1 New York Times bestselling author of Fablehaven.  "A wild ride of a novel...hilarious." --Sayantani DasGupta, New York Times bestselling author of The Kingdom Beyond
Reviews
Donna
Momo Arashima Steals the Sword of the Wind is full of excitement, adventure and terrifying thrills! Living with her mum (who has health issues), Momo has been brought up with the Japanese stories of old being in the forefront of her life. Her mum has always told her about the legends of Japanese folktales (some of which are quite scary). Momo has seen many of these creatures; however, her teachers have blamed her over-active imagination. Her school mates have teased and bullied her about it to the point where Momo doesn't want to believe in them anymore.
After an encounter with a 'fox-boy' and a flying hag, Momo's adventure really begins. Teaming up with Niko (the fox) and Danny (who used to be her friend when they were younger, but now hangs around with the 'cool' kids) they set out to save the world!
I loved finding out about Japanese folklore and really appreciated the glossary as I knew nothing about any of it before. A brilliant book for anyone who loves adventure books and anyone who is interested in, or wants to know more about Japanese gods, demons, monsters and heros. Can't wait for the next in the series. 
384 pages / Reviewed by Donna Ritchie, teacher
Suggested Reading Age 9+
Beverley
At the start of Momo Arashima Steals The Sword of the Wind, we meet Momo who lives with, and cares for, her mother in California. She is a loner, and her teachers say she has an overactive imagination. Coming from a Japanese family, Momo has always loved the stories of ancient gods and monsters her mother has told her, and her schoolmates tease her for mixing up these magical stories with reality. The night before her twelfth birthday, Momo sees a fox in her garden, and this leads her into an adventure even she could not have imagined happening. Attacked by a shikome, an evil death-hag, Momo learns that her mother is in fact a kami, a Shinto goddess. Mom used to protect the portal to the land of the dead, Yomi, but now the portal is weakened and under attack, The whole world is in danger as thousands of evil spirits are about to escape and destroy humanity as we know it. Momo finds out that she is a half goddess; with the help of Danny, a boy from her school and Niko, a magical fox, she must journey through strange and legendary lands in order to seal the portal and save the world.
I loved this funny, complex, exciting story! The action never stops as the author brilliantly blends adventure with Japanese folklore to deliver a barnstorming novel, with themes of adventure, family and identity.
Momo is a fabulous character; she loves her mother but feels her upbringing has made her stand out as different at school. When she realises the dangers she must face in order to save her mother, she does not hesitate, but plunges headlong into a whole new world, with the help of Danny and Niko. Danny, also Japanese but adopted into a white family, has seemingly abandoned his cultural heritage in order to fit in with the cool kids at school, but finds himself swept into Momo's adventure, helping her and finding himself along the way. Niko is an interesting character, he has secrets he is not telling Momo or Danny, but proves himself to be an integral part of the intrepid trio as the story unfolds.
We are taken on a thrilling ride, meeting hags, monsters, gods and goddesses along the way. We visit undersea worlds, meet a demon disguised as a rock star and see Momo, Danny and Niko battling and outsmarting scorpion armies and flying on paper origami cranes.
Momo Arashima Steals The Sword of the Wind is written in short chapters and contains plenty of humour which helps to hold the interest of the reader. The climax to the book is beautifully written, with Momo confronting terrifying enemies and learning to harness the power of her anger in order to achieve her aims. We ae left with a satisfying conclusion, and are given a very strong hint that there will be a sequel!
The author also includes a very useful glossary which helps the reader to understand the legends described in the story. I can highly recommend this novel, and also feel it would make an excellent movie in the right hands. Hopefully it will not be too long before we find out what fate has next in store for Momo, Danny and Niko!
384 pages / Reviewed by Beverley, school librarian
Suggested Reading Age 11+
Other titles