Monster Doughnuts (Monster Doughnuts 1)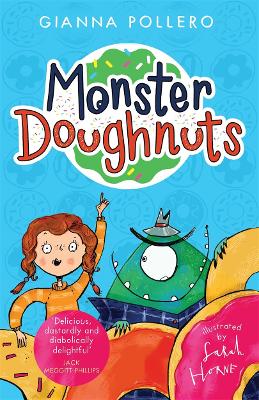 By Author / Illustrator
Gianna Pollero, Sarah Horne
Genre
Funny Stories
Age range(s)
7+
Publisher
Templar Publishing
ISBN
9781848129436
Format
Paperback / softback
Published
15-04-2021
Synopsis
A deliciously funny series from sparkling new talent Gianna Pollero, illustrated by the award-winning Sarah Horne.  Ten-year-old Grace likes doughnuts and cakes as much as the next kid - but they are also her secret weapon. Grace is a monster hunter who owns a bakery - and everyone knows how much monsters LOVE any kind of sweet treat! Just don't tell them about the secret exploding baking powder inside the doughnuts and the cookies ...  When Grace's Monster Scanning Machine alerts her to the doughnut-loving, people-eating, board-game-playing cyclops Mr Harris, she realises she's about to face her biggest challenge yet...
Q&A with author Gianna Pollero
Reviews
Lisa
A completely wacky and hilarious story about a 10-year-old girl who is a monster hunter! But Grace isn't any normal monster hunter, she has discovered that monsters LOVE a sweet treat and uses this to her advantage, filling doughnuts with secret exploding baking powder to defeat her enemies! Grace is super successful, until she comes across her toughest challenge yet – Mr Harris! Grace bravely embarks on her challenge to defeat Mr Harris and save the country!
Children who are ready for longer chapter books (Year 2/ age 7+) will be thoroughly engaged with this book. They will be captivated by the adventure of the story and creative characters. The vocabulary is accessible to younger children for them to be able to read it independently with an occasional prompt from an adult, making it a great book to be read both independently and shared with a grown up. My 8-year-old daughter loved sharing parts of the book with me, and we laughed out loud together along the way.
Monster Doughnuts would also be a great book for older children who are reluctant or struggling readers. One I will be adding to my own classroom shelf!
256 pages / Reviewed by Lisa Watkins, teacher
Suggested Reading Age 7+
Other titles