Moone Boy: The Blunder Years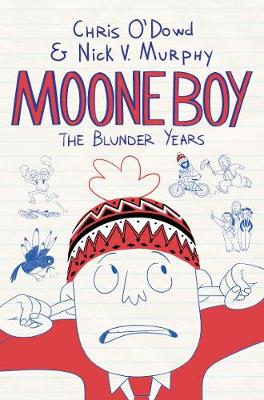 By Author / Illustrator
Chris O'Dowd (Author), Nick Vincent Murphy (Author)
Genre
Adventure
Age range(s)
9+
Publisher
Pan Macmillan
ISBN
9781447270942
Format
Hardback
Published
16-10-2014
Synopsis
Successful film and TV star, Chris O' Dowd, collaborates with friend and screenwriter Nick Vincent Murphy in Moone Boy: The Blunder Years, the first in this hilarious, illustrated series.
Martin Moone is eleven and completely fed up with being the only boy in a family of girls. He's desperate for a decent wingman to help him navigate his idiotic life. So when best mate Padraic suggests Martin get an imaginary friend - or 'IF' for short - he decides to give it a go.
His first attempt is Loopy Lou, a hyperactive goofball who loves writing rubbish rap songs. But Martin soon gets fed up with Lou's loopiness and decides to trade in his IF for someone a little less wacky. Enter Sean 'Caution' Murphy, an imaginary office clerk in a bad suit with a passion for laziness and a head full of dodgy jokes. Sean is full of tips and tricks to guide Martin through the perils of the playground, from dealing with his sisters' pranks to beating the bullying Bonner boys. But getting rid of Lou is not that easy, and having TWO imaginary friends is a recipe for trouble!
Reviews
Melanie
I was pleasantly surprised by this book; it's not just another copy-cat Diary of a Wimpy Kid. Martin Moone is a kid with plenty of problems and no imagination. He is overwhelmed by his three sisters, his mum and dad seem have given up on him as a general disappointment, and he has the Bonner Brothers bullying him at school. His only friend Padraic is not much help as he spends most of his time ploughing fields. What he needs is someone he can rely on to watch his back and generally help him through life, and what could be better than an imaginary friend? This is where the book's gentle, and at times bizarre, humour really kicks in. Martin's life certainly gets more interesting and more complicated as he meets a raft of new characters including two trees, a clown who tries too hard and then decides to get revenge and a customer service representative. Should have mass appeal, but also hook in some reluctant readers, partly due to the Sky series and partly because of its visual appeal with cartoon sketches and footnotes to break up the text. 370p / Ages 8-12 years / Reviewed by Melanie Chadwick, librarian
Suggested Reading Age 9+
Other titles