Mortal Coil (Skulduggery Pleasant, Book 5)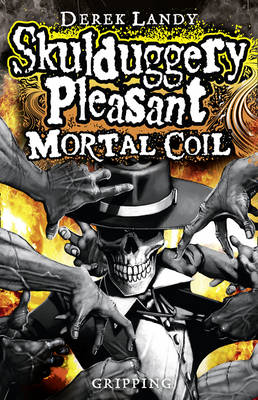 By Author / Illustrator
Derek Landy
Genre
Fantasy
Age range(s)
9+
Publisher
HarperCollins Publishers
ISBN
9780007325986
Format
Hardback
Published
02-09-2010
Synopsis
Following the shocking revelations of DARK DAYS, get ready for the fifth instalment of the bestselling Skulduggery Pleasant series - guaranteed to contain at least 40% humour, 50% action, and 100% thrills...
\"The blonde girl with the black lips turned to Valkyrie. 'We know,' she said. 'We've seen the future. We know you're going to kill the world...'\"
Skulduggery Pleasant and Valkyrie Cain are back - just in time to see their whole world get turned upside down...
While they struggle to protect a known killer from an unstoppable assassin, Valkyrie is on a secret mission of her own. This quest, to prevent her dark and murderous destiny, threatens to take her to the brink of death and beyond. And then the body-snatching Remnants get loose, thousands of twisted souls who possess the living like puppets, and they begin their search for a being powerful enough to lead them. Facing such insurmountable odds, Skulduggery, Valkyrie, Ghastly and Tanith can trust no one. Not even each other...
Reviews
Cameron

- Age 14
It is the best book in the world :) and it has a gripping plot. The characters are unique and they also have their own individual backgrounds. This book is ideal for teenagers for both genders. The language is relatively simple. There is a lot of action in it to make you not want to put the book down until you have finished.
Suggested Reading Age 9+
Other titles