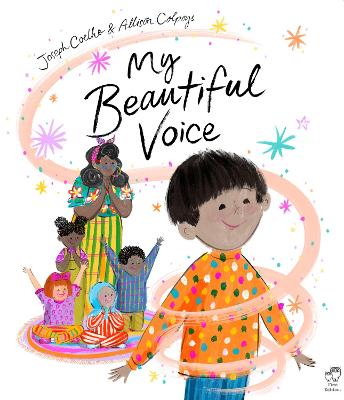 By Author / Illustrator
Joseph Coelho, Ms. Allison Colpoys
Genre
Personal Growth
Age range(s)
5+
Publisher
Frances Lincoln Publishers Ltd
ISBN
9780711248304
Format
Hardback
Published
03-08-2021
Synopsis
A moving, lyrical picture book about a shy child unlocking the power of their own voice through poetry, with the helping hand of an extra special teacher, written by poet and playwright Joseph Coelho.

From the creators of If All The World Were, winner of the 2019 Independent Book Shop Picture Book Award which has been translated into 13 languages, this beautifully illustrated, powerful and heartwarming text shows children that everyone's voice can be powerful and beautiful, however small.

Allison Colpoys' gorgeous artwork spills from every page as she shows this most heartwarming of tales. Follow a child who is so shy she doesn't speak. With the encouragement on an enchanting and magical teacher, she writes a poem. But a poem is meant to be read aloud! She musters all her courage, stands at the front of the class and shows her classmates that she does have a voice. And her voice is BEAUTIFUL!

The perfect way to encourage empathy in young children and show shy children how to feel brave.
Reviews
Nikki
My Beautiful Voice is a stunning picture book about a shy, nervous girl who discovers her voice through the power of poetry. The young girl in this story is petrified at the thought of a poetry performance taking place at her school and her having to speak out loud. The girl meets her new Teacher, Miss Flotsam, who is full of worldly knowledge, bright with passion and a colourful character with lots of wonderful stories to tell. Miss Flotsam is a special teacher that gently motivates and encourages the little girl to write, to be brave and have the confidence to discover her beautiful voice. The girl writes her own poem, adding to it over time, another line, another verse, rhyming words until finally it is complete. At first, she whispers it in her teacher's ear and eventually she has the courage to be able to recite her poem out loud for all the class to hear.
This sweet story is a celebration of teachers and their ability to unlock a child's potential as well as the courage it takes to be able to speak out in class in front of our peers. The book is packed full of bright neon colours, splashed all over the page. A story exuberating colour is guaranteed to attract the attention of young minds. I especially like the twirls and swirls that curl around the page to represent the imagination coming to life. This is a great story to share as an introduction to poetry for primary children and to encourage empathy in the children to recognise the fears of others and create a safe/positive learning environment.
32 pages / Reviewed by Nikki Stiles
Suggested Reading Age 5+
Jan
This is a special book. Joseph Coelho's narrative poem captures the positive effect that a brilliant, caring teacher can have on each pupil. Miss Flotsam is a force of nature, inspiring her pupils with her stories and poetry. It is written in the first person, describing the experience of a young child, possibly an elective mute, gently encouraged to face their anxiety, become emboldened and find their beautiful voice.
Opportunities to use visual literacy skills are evident throughout the book, whilst Coelho's words paint their own pictures. Particular adverbs are highlighted in a larger font and Coelho's alliterative similes add to the joyous sense of being, created by this poetic book. The illustrations by Allison Colpoys are vibrantly colourful, exploding across the pages, drawing the eye to every part. The clever use of the orange, swirling stripe that circles around the small child highlights her at crucial points in the narrative.
The physical and emotional struggle to get from their seat to the front of the class to read their poem is conveyed by the use of weather and landscape similes. The child's struggle is felt in each complementing picture. The sense of growing resilience is evident in the repetition of 'but I keep going'. Eventually, the orange paint stroke carries the words read from a school notebook, out to all the class. Joyous.
This is perfect for reading aloud and as a starting point for literacy lessons in KS1 and 2.
Reviewed by Jan Blagden, teacher
Suggested Reading Age 5+
Other titles