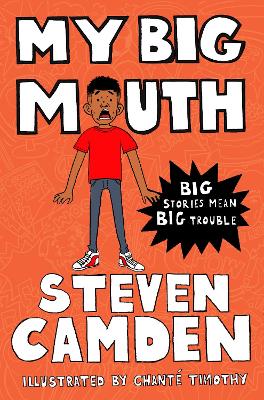 By Author / Illustrator
Steven Camden, Chante Timothy
Genre
Friends and family
Age range(s)
9+
Publisher
Pan Macmillan
ISBN
9781529010978
Format
Paperback / softback
Published
08-07-2021
Synopsis
Big lies mean big trouble for Jay and his mates. Funny and tender, My Big Mouth, CLiPPA Award-winner Steven Camden's brilliant first novel for readers of 8 to 11, is about friendship, storytelling and the price of being cool. Brilliantly illustrated throughout by Chante Timothy.

'They think I'm cool.'  Dom's face wrinkled up, 'Who does? Who cares?' But I did. I cared.

When Dad leaves, ten-year-old Jay has questions.  Where has he gone?  Why did he go?

When no one can give Jay the answers he needs, he makes up his own stories, setting off a chain reaction that sees regular old Jay go from just another face in the crowd, to the centre of attention.  But being the coolest kid in school comes at a cost. And as things spiral out of control, can the most unlikely person help him learn the most important lesson of all?
Reviews
Jennifer
The funny and poignant story is about 10 year old Jay, trying to deal with the emotional turmoil created by the unexpected and unexplained event of his dad leaving the family home. Jay is confused and feeling helpless and abandoned when (on making up an excuse for not doing his homework) it seems he stumbles on a talent for making up stories (just like his writer father) and creates an exciting and enthralling excuse for his dad's absence. Jay's fibs wow his classmates, make him interesting and 'cool' and Jay is swept up in creating a whole network of fabricated events to keep up with impressing his new fan base.  In the temptation to lead a new crowd, Jay neglects his true best friend Dom and takes up with previous sworn enemy Danny Jones. But harmless fibs seem to become full on lies - bigger, bolder but definitely not better.
Me and My Big Mouth is humorous. Some of the fibs Jay tells are laugh out loud ridiculous and imaginative (like telling school-friends that North Korea has found a way of grafting a shark's head onto a rhino as a new ground war weapon). It is also gently tender and addresses very relatable themes - friendship, fitting in, family dynamics and the struggle to always do the right thing. The skill of the author is that the reader feels so affectionate towards Jay, even as we watch him break best friend Dom's heart and dismiss his plans to win the school talent show as a duo.
There is a fantastic narrative voice - Camden frequently addresses the reader, questioning their own experiences and so draws them skilfully into the story. What I really loved about the story is that the author is clearly rooting for all his main characters. Whilst we feel for Jay and his sense of loss, we are also charmed by Dom's positive attitude and upbeat outlook (even to extent of loving his fish paste sarnies). Danny Jones, the feared school toughnut, has his own story that is both surprising and heart rending.
Jay's antics and lies threaten to overwhelm him but Dom continues to show his self-belief and we begin to see more of Danny's thirst for knowledge and his hopes for a different future. The hugely empathetic writing of the author reminded me of the skill of author Stewart Foster - both authors have a real talent for making the reader feel the genuine care and nurture that their characters evoke and deserve .
Throughout the book there are lovely illustrations by Chante Timothy that really bring to life key moments of the story such as allowing us to see inside Danny's bedroom and envision the brilliant show-stopping talent show. Me and My Big Mouth is positive, fun and a real joy to read. It would make a really engaging class novel.
304 pages / Ages 8+ / Reviewed by Jennifer Caddick
Suggested Reading Age 9+
Other titles