My First Book of Electromagnetism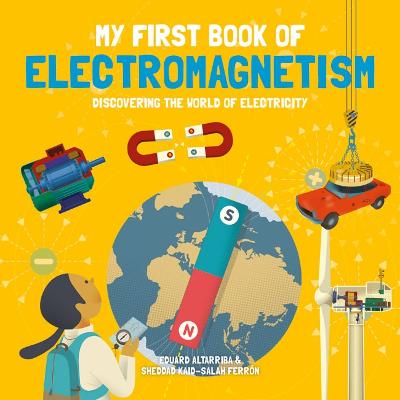 By Author / Illustrator
Sheddad Kaid- Saleh Ferron, illus Eduard Altarriba
Genre
Non Fiction
Age range(s)
7+
Publisher
Button Books
ISBN
9781787081246
Format
Hardback
Published
28-10-2022
Synopsis
My First Book of Electromagnetism uses fascinating bite-size facts, clear and simple explanations and attractive and absorbing illustrations to illuminate the mysteries of electricity and magnetism. Nowadays, electricity and magnetism are all around us and we use them for nearly everything. In fact, it's hard to find anything that works without them. But what actually is electricity? What has it got to do with magnets? What is magnetism? And the most fascinating thing of all, what has all this got to do with light?
All these questions are answered in this introduction to the fabulous world of electromagnetism. My First Book of Electromagnetism tells the story of humankind's growing understanding of the forces around us, from Thales of Miletus's first experiments with magnetic attraction in 600 BCE to Michael Faraday and James Clerk Maxwell unifying the fields of magnetism and electricity to develop the theory of electromagnetism. At various stages in this fascinating journey the reader can find out how to make their own experiments, including making their own electroscope to test for electric charge and how to construct a working motor from safety pins, wire, sticky tape, a magnet and a battery.
Reviews
Jenny
This First Book of Electromagnetism is a fabulously colourful and engaging non-fiction science guide by the brilliant Button Books , who excel at producing bold and very visually appealing non-fiction books that are packed with incredible facts and written and illustrated by experts in the area we are about to discover. The presentation style of the book is just right - the layout takes a 'big' topic like electricity and chunks the facts and knowledge into clear, concise defined sections. The explanations are displayed in an accessible format with diagrams, fun illustrations and captions but are thorough and never patronizing to a younger reader.
The history of electricity and magnets is explored dating back nearly 5000 years and the book holds a fascinating timeline within it of famous scientific names and key moments of discovery (such as Benjamin Franklin's experiments in the 1700's). The lively, contemporary illustrations bring the science and the past to life really clearly. The visuals explaining how atoms and magnets work, for example , are really effective in helping the reader 'see' the science.
Button Books always surprise me at how much they pack into these books at such an excellent price. The book looks and feel glossy, with experiments within to try out yourself amongst the information. It feels like quite an interactive reading experience - fun, enlightening and creatively written.
48 pages / Reviewed by Jenny Caddick, teacher
Suggested Reading Age 7+
Other titles