My Love Life and the Apocalypse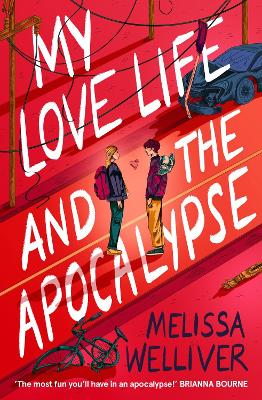 By Author / Illustrator
Melissa Welliver
Genre
Science Fiction
Age range(s)
14+
Publisher
Chicken House Ltd
ISBN
9781913696573
Format
Paperback / softback
Published
13-04-2023
Synopsis
Planet Earth Sucks. Humans have gone and cities are empty, looked after by bots. But not all robots are machines. Echo is part-human, his heart ruled by an unreliable E-Mote chip which means he's pretty much a normal boy surviving on canned beans. Living his best life. Then a space-pod crash-lands in his neighbourhood with a girl on board. Pandora. She's his last hope, and apparently he's hers - if they really are all that's left alive...
A highly original and uplifting YA love story/science fiction mash-up with a slow-burn romance. Set in an abandoned but fully maintained New York City where the characters live out all our empty mall dreams. A thrilling adventure with plenty of unexpected twists and turns - and a dash of darkness YA readers will love Echo's vintage 90s-00s culture obsession!  A post-apocalyptic rom-com perfect for fans of Adam Silvera.
'The most fun you'll have in an apocalypse!' Brianna Bourne, author of You and Me at the End of the World.  'A perfect blend of romance, humour and dark dystopia, Melissa Welliver has created something fun, thought-provoking and completely unique.' Amy McCaw, author of Mina and the Undead. 
Reviews
Clair
I found My Love Life and The Apocalypse to be a really thought provoking read, especially given the recent concern surrounding artificial intelligence and the extreme weather events on the news. The chapters alternate between Echo (part human and part robot) and Pandora, daughter of the president of Aurora Technologies Ltd, who has just emerged from a cryogenic sleeping pod that crash landed back on earth. Until then, Echo had been surviving alone, eating tinned food purchased with found credit cards, for quite some time.
Echo and Pandora are seemingly alone in the world, other than a handful of unemotional bots that they are unable to have a sensible conversation with and some mutant animals that they have to steer clear of. My favourite side character was Gort. I loved Echo updating him with all of the 90's slang. His dead pan comments were brilliant.
The three start up a car and go on a road-trip to discover whether they really are all that's left alive and come across a community run by General Razor. Pre-apocalypse, there was a real divide between the haves and have nots. The very wealthy were able to purchase tickets for the cryogenic sleep programme and everyone else was left to die in the droughts, the big freeze and the flares and nuclear meltdowns. Post apocalypse, they find there is a divide between humans and AI. Will Echo be safe? All is not as it seems in the commune.
I found myself hooked by the pace of the book. It gets quite tense in places and I could not put it down! I think this would suit an older teen as, without giving away any spoilers, it was a bit dark towards the end. This book will appeal to those that enjoy humour, science fiction and romance. It is perfect to recommend to fans of Neal Shusterman.
400 pages / Reviewed by Clair Bossons, school librarian
Suggested Reading Age 14+
Other titles