Mystery of the Night Watchers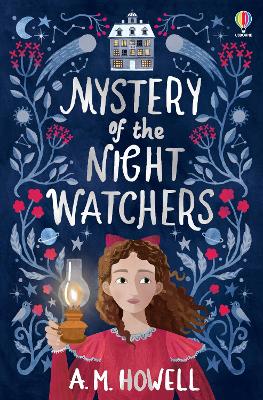 By Author / Illustrator
A.M. Howell
Genre
Mystery & Detective
Age range(s)
9+
Publisher
Usborne Publishing Ltd
ISBN
9781474991063
Format
Paperback / softback
Published
08-07-2021
Synopsis
From the bestselling author of The Garden of Lost Secrets and The House of One Hundred Clocks, A.M. Howell, comes a gripping new adventure filled with buried secrets and dark lies, set against the evocative backdrop of the Edwardian era. MAY, 1910As the blazing Halley's comet draws close to the earth, Nancy is uprooted to start a new life in Suffolk with a grandfather she has never met. With every curtain drawn shut, Nancy is forbidden from leaving her grandfather's house: no one must know that her or her mother are there. Yet, when Nancy discovers the house's secret observatory, she watches her mother and grandfather creep out every night... Where are they going? And why mustn't any of them be seen? As the mysteries pile up, Nancy must bring dark secrets from the past to light - even if doing so will put her own life at risk. 
Reviews
Emelia
The Mystery of the Night Watchers is such a lovely read. As Haley's comet is drawing ever closer to earth a mother uproots her daughters and takes them to meet their grandfather they knew existed. The story begins one morning that many of us will have encountered. Children getting ready for school, father getting ready for work but Nancy, one of the main characters of the story, is quietly noticing things about her mother. On their way Nancy realises that they are walking passed the turning for school. Questioning mother she finds that they are going to Suffolk on the train to help their grandfather watch the comet. Nancy and her little sister find themselves in the middle of a mystery with family secrets coming to light and Nancy being the girl she is must try solve it. There are twists along the way. You think you know what is going to happen but... do you really? You will have to read to find out. A lovely easy read with detailed descriptions that help you visualise each setting.
352 pages / Reviewed by Emelia Helliwell, school librarian
Suggested Reading Age 11+
Beverley
It is 1910, and the forthcoming arrival of Halley's Comet is causing excitement and fear around the world. 12-year-old Nancy and her younger sister Violet have their lives suddenly turned upside down when their mother takes them off to Suffolk to visit a grandfather they had always thought was dead. Mother tells them that Grandfather is a keen astronomer and, because he is unwell, needs their help to view the comet.
However, when they arrive, the two girls are told that they must keep out of sight and not let anyone know that they are there. Nancy quickly begins to question what is happening; their grandfather runs an apothecary's shop but seems to have lost all of his customers. Why does the mayor of the town seem to hate the family so much? Why did their mother lie about Grandfather being dead? And why are Grandfather and Mother sneaking out of the house at night? Nancy decides to investigate these strange events, and with the help of Violet and Burch Cavendish, the son of the local haberdasher, she finds herself involved in an exciting and dangerous adventure.
Mystery of the Night Watchers is a charming historical novel which had me gripped from the first chapter. Nancy is a wonderful character, thoughtful, loyal and brave and with a strong need to do the right thing. She dreams of being a solicitor like her adoptive father, but at the time of the novel girls are not allowed to work in the field of law. Violet is impulsive and lively, and shows great initiative when helping her sister in her investigations. Burch is a great addition to the novel, intelligent and determined to help Nancy to unravel the mystery surrounding her family. The author has a brilliant way of describing her characters; the mayor, in particular is a very unpleasant man and treats people appallingly in his quest for money and power. A scene in which he forces Burch's father to clean his shoes while he is still wearing them shows exactly what type of person he is.
The story unfolds in an extremely satisfying manner. Each time Nancy feels as though she has solved one mystery, another arises. The reader's attention is never allowed to waver and the action never flags. We also learn about Halley's Comet, and how many people at the time were terrified by it, thinking that the gases from its tail would poison them. All of this information is cleverly woven into the story and is easy to follow.
I thoroughly enjoyed this novel - I loved the inclusion of a map so that the reader can follow the various routes taken by Nancy, Violet and Burch! 
352 pages / Reviewed by Beverley Somerset, School Librarian
Suggested Reading Age 9+
Other titles