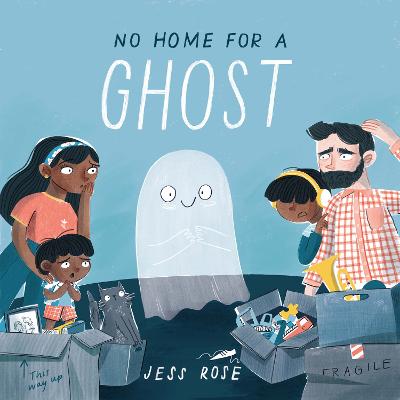 By Author / Illustrator
Jess Rose
Genre
Representation & Inclusion
Age range(s)
3+
Publisher
Owlet Press
ISBN
9781913339456
Format
Paperback / softback
Published
04-10-2022
Synopsis
A beautiful book about belonging, which reassures young children who might be afraid of ghosts, and teaches us all to be kinder to others.
Note from the author: After telling my youngest child that 'Ghosts don't have to be scary' countless times, I wanted to challenge the stereotype of a ghost story and spin it so we think of things from the ghost's perspective: Who are they, where they live and their idea of 'home'? This story is about a ghost who lived happily in a house but has that taken away from him by a family who want to live there instead. I wanted to share a message that just because someone is different, this doesn't mean we don't show kindness and respect to them, I also wanted to encourage a narrative around displacement and sharing this place we call 'home'.
Reviews
Sharon
This is a little gem of a book which reminds me of the classic Not Now Bernard, so maybe this book will be a classic of the future? Let's see.   In No Home for a Ghost, Dylan's family moves into their new home, however, there is already a resident there - a ghost. The ghost makes his presence felt with the new arrivals, and the adults decide that the ghost has to go. This means the ghost ends up being homeless. Dylan feels guilty and eventually persuades the family to set out to find their lost ghost.
The issues of excluding someone because they are different, as well as homelessness and acceptance, run strongly through this book. Children can empathise with the ghost and the Dylan, and PSHE themes are plentiful in the text. Highly recommended for the youngest children in school, however it can be accessed right the way through KS1 & KS2. A strong candidate for a whole school book week.
Picture book / Reviewed by Sharon Porter, teacher
Suggested Reading Age 3+
Other titles