No Pets Allowed! A Bloomsbury Reader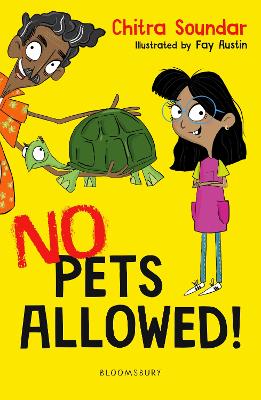 By Author / Illustrator
Chitra Soundar, illus Fay Austin
Genre
Young fiction
Age range(s)
7+
Publisher
Bloomsbury Publishing PLC
ISBN
9781801991742
Format
Paperback / softback
Published
05-01-2023
Synopsis
Book Band: Lime, ideal for ages 6+.     A funny, uplifting tale about family and the healing power of pets from internationally published author, Chitra Soundar.
Keva loves helping out at Grandpa's pet adoption centre. When he has to go to hospital, she knows that his best friend, Atlas the tortoise, is just the thing to cheer him up. It's too bad that the rude hospital manager, Mr Sallow, has banned all pets from the ward!  But when Keva notices a picture on his desk, she hatches a plan that she hopes will change his mind...
This story features lively black-and-white illustrations by Fay Austin. The Bloomsbury Readers series is packed with book-banded stories to get children reading independently in Key Stage 2 by award-winning authors like double Carnegie Medal winner Geraldine McCaughrean and Waterstones Prize winner Patrice Lawrence. With engaging illustrations and online guided reading notes written by the Centre for Literacy in Primary Education (CLPE), this series is ideal for home and school. For more information visit www.bloomsburyreaders.com.
Reviews
Lizi
Keva usually spends every Saturday helping her grandpa at his animal adoption centre. But when he has to go to the hospital one week and Keva goes to visit him, she comes across the very rude hospital manager. Can Keva persuade Mr. Sallow that pets should be allowed?
The Bloomsbury Readers are a great series of books that can help reinvigorate a school's reading scheme; they're book banded (This is a lime bookband) and are pitched perfectly at helping readers of all ages and skills develop a love of reading whilst practising key skills.
No Pets Allowed! is a nice early chapter book; it has some pictures, large-ish text and a story that animal lovers will love.
64 pages / Reviewed by Lizi, teacher
Suggested Reading Age 7+
Other titles