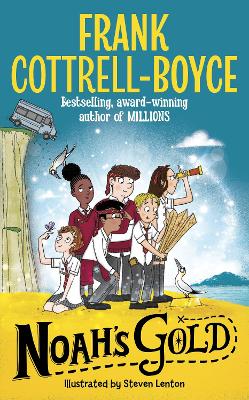 By Author / Illustrator
Frank Cottrell Boyce, Steven Lenton
Genre
Adventure
Age range(s)
9+
Publisher
Pan Macmillan
ISBN
9781529048261
Format
Hardback
Published
13-05-2021
Synopsis
Packed with mystery, adventure and laughs, Noah's Gold is the exciting novel from the bestselling, multi-award-winning author of Millions and Cosmic, Frank Cottrell-Boyce. Fully illustrated in black and white throughout by Steven Lenton, this is perfect for readers of 9+.

Being the smallest doesn't stop you having the biggest ideas.  11-year old Noah sneaks along on his big sister's geography field trip. Everything goes wrong! Six kids are marooned on an uninhabited island. Their teacher has vanished. They're hungry. Their phones don't work and Noah has broken the internet. There's no way of contacting home . . . Disaster!  Until Noah discovers a treasure map and the gang goes in search of gold.  'A writer of comic genius - he has something of Roald Dahl's magic, but more heart' - Sunday Telegraph
Reviews
Donna
It is a well-known fact (in his family) that Noah breaks everything he touches. But, when he stows away in the back of the school mini-bus on his sister's geography field trip to Wonder Warehouse, his 'skill' has mammoth repercussions that have an effect on more than just him and his family. First the Sat-Nav goes awry and the group end up on an island in the middle of the sea; next their mini-bus is ruined; and finally, the children find they are alone. But when the internet stops working, too, then they really worry about how they will survive. If you can't search 'How to survive on a deserted island?' or 'how to make dinner for six children with one packet of sweets, a few rice crispie sandwiches and a bar of chocolate?', then how can they possibly survive? To top it all, Eve - Noah's sister - completely disowns him.
Can Noah become the 'wee gem' that the others believe him to be? Can he keep them alive AND fix the internet? By dropping a series of letters, to his parents, into the island's mail box, Noah explains his plans step by step… but will anyone receive them?
Frank Cottrell-Boyce puts a light-hearted twist on a story that has deep-seated undertones. What would children do now without the internet? When the answer to everything is a quick search away, what would really happen if this was no longer possible? What skills does each child possess (or latent knowledge) that could really help them to survive?
Curriculum links: Problem solving, communication, teamwork, poverty, hope, letter writing.
304 pages / Ages 8+ / Reviewed by Donna Burkert, teacher
Suggested Reading Age 9+
Jennifer
This brilliantly humorous adventure features a lively cast of schoolkids, marooned on an island and cut off from the rest of the world. Tiny 11 year old Noah stows away on his older sister's geography trip to the Orinoco Warehouse (a nearby online shopping warehouse) but, proving that technology isn't always perfect, the school mini bus Satnav directs the teacher to the Orinoco River… (yes, the one in South America). With their teacher blindly following the directions without question, the minibus ends up stranded on a deserted island … at the top of a cliff… actually, over the edge of a cliff to be exact. Noah and the gang find themselves alone when their teacher also disappears and then Noah breaks the internet! No adults, no working phones, no food. They must fend for themselves, try and figure out how to get rescued and (more excitingly) solve the mystery of a treasure map they find.
Noah's Gold is hilarious, heart-warming and so imaginative. Each chapter is written as a letter from Noah to his parents and vice versa and this adds to the intrigue and oddness of the situation. How is Noah receiving the letters? Why do Noah's parents seem relatively calm and insist Noah fixes the internet before anything is done to rescue him? Noah himself is small and plucky and instantly endearing (to the reader, anyway). More so because he, initially, seems like the scapegoat of the group and the one to get the blame.
Each of the gang are totally fantastic characters with personalities so affectionately created by the author. Ryland Scally (his second name is one for the Scousers reading this) loves computers with fights involved. Also fights themselves in general. Dario Fogerty is a walking encyclopaedia and my absolute favourite was Ada Adamski, "who talked like she had the faeries on speed dial". Ada is convinced that Noah is a magical child from the island itself - "He's like a wee hobbit", and made me laugh out loud at her delightful daydreaming ditzy demeanour.
The children have to manage without phones and technology and begin to show more resilience and strength of character than they ever expected. Not limited by, or conscious of, the need to get social media approval anymore, they begin to communicate, relate to and bond in a different, more honest way. They must use their teamwork and combined skills when danger draws close, as they realise they may not be alone on the island after all.
Steven Lenton's talented illustrations add to the humour and engagement with the story. There is a lovely and appealing map under the book jacket and inside the book that adds to the visual treats. Noah's Gold is fantastically fun, packed with action and overflows with heart as the group get closer and friendships bloom. It would make a brilliant class novel (and a fab film too!) I thoroughly recommend this clever, comic caper.
304 pages / Ages 8+ / Reviewed by Jennifer Caddick, teacher
Suggested Reading Age 7+
Other titles