Nothing Ever Happens Here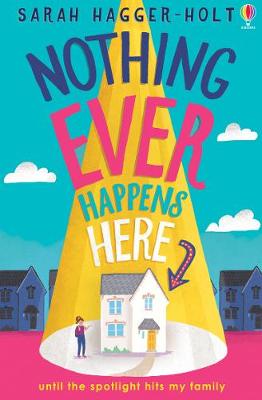 By Author / Illustrator
Sarah Hagger-Holt
Genre
Adventure
Age range(s)
9+
Publisher
Usborne Publishing Ltd
ISBN
9781474966238
Format
Paperback / softback
Published
09-01-2020
Synopsis
\"This is Littlehaven. Nothing ever happens here. Until the spotlight hits my family.\" Izzy's family is under the spotlight when her dad comes out as Danielle, a trans woman. Izzy is terrified her family will be torn apart. Will she lose her dad? Will her parents break up? And what will people at school say? Izzy's always been shy, but now all eyes are on her. Can she face her fears, find her voice and stand up for what's right?
Reviews
Lucy
Izzy lives in Littlehaven, a small town in the East of England where nothing ever happens. Until the day, that is, when Izzy's dad tells her that he is transgender, and is about to start living as a woman, Danielle. Reeling from the shock, Izzy attempts to get on with school, auditioning for the play and keeping on top of her homework, desperately longing to turn the clock back. Her best friend Grace is of huge support, but as word gets out, Izzy's world begins to unravel and she must face some dark days before she can emerge into the light.

Izzy is portrayed authentically and her struggles with honesty as she comes to terms with her dad's changing identity and what this means for her feel genuine. The author has real insight into the head of a 14-year-old girl, who is credibly self-centred, desperately concerned with fitting in at school and preoccupied with the school play!
The exploration of the relationships in Nothing Ever Happens Here are its particular strength: Izzy's relationships with her best friend Grace and her older sister in particular, are satisfyingly real in all their ups and downs, and the reader will be captivated as they help one another navigate the changes going on for them. It rings true that for Izzy, it is these closer peer relationships rather than those with her parents that are given most attention, although the complexity of the feelings towards both her parents are also sensitively and realistically addressed.

It is disappointing therefore, that after such a strong, believable first half, the book begins to feel more 'issues based' in the second half. It is ironic that in aiming to challenge certain stereotypes the author leans heavily on others - the gay drama teacher, the hostile black Christian pastor, the media, and readers may become frustrated with this change in emphasis. The powerful message of walking a pathway to acceptance and love which is narrated so skilfully through Izzy's voice is undermined by these heavy-handed additions to the story towards the end.

The author writes 'I have tried...to tell this story with respect and realism' and where she has succeeded, this is due to proficient portrayal of her main character and the telling of Izzy's story.

272 pages / Ages 9-12 / Reviewed by Lucy Russell, teacher
Suggested Reading Age 9+
Other titles