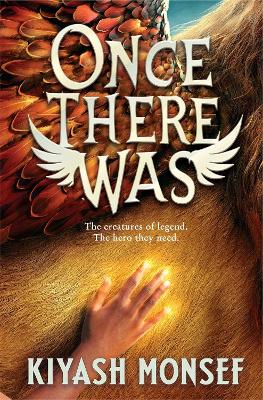 By Author / Illustrator
Kiyash Monsef
Genre
Magical Realism
Age range(s)
9+
Publisher
Simon & Schuster Ltd
ISBN
9781398520400
Format
Hardback
Published
04-04-2023
Synopsis
Discover a world of extraordinary beasts and unexpected heroes in the dazzling debut from Kiyash Monsef.
Perfect for readers aged 9+ and fans of Philip Pullman, Neil Gaiman, J.K. Rowling and A.F. Steadman.

Once was, once wasn't . . .  So began the stories Marjan's father told her as a little girl - tales of mythical beasts that filled her with curiosity and wonder: Griffons. Unicorns. Dragons.  But Marjan is not a little girl anymore. After her father's sudden death, she is trying to hold it all together: her schoolwork, her friendships and her dad's struggling veterinary practice. But a mysterious visitor soon reveals that Marjan's father was no ordinary vet. The creatures from his stories are real - and he travelled the world to care for them.

Stepping into a secret world hidden in plain sight, where magical creatures are bought and sold, treasured and trapped, Marjan must take her father's place. The deeper in she gets, the closer she comes to a shocking truth that will put both humans and beasts in terrible danger.
Author Kiyash Monsef reads from Once There Was
Reviews
Donna
Marjan's father has been killed. She doesn't know why, she doesn't know by who. What she does know is that since his death, she has been left to take on his responsibilities and keep his business going. She has been left to continue her life at school, whilst her mind is full of gaps and unanswered questions. She returns again and again to the tales her father told her as a child, tales and legends of mystical creatures. And then she receives a message. A message that doesn't make sense, and which leads her into a journey that is unknown. A secret journey. A journey that reminds her of the times when her dad would disappear for days at a time, journeys that were given no explanation, that were never spoken of. And now she is going on one too.
Discovering her family gift, Marjan starts to uncover and understand the importance of the work her dad undertook. She begins to become embroiled in the secrets and the lies. Feeling lost and inexperienced, she wonders why her dad had never spoken of this before, why he had never trusted her, never prepared her. And then the stories come back again, and again...and she realises that the lessons were there. But whoever killed her dad, might just be looking for her too and Marjan doesn't know who to trust, who to believe. If she is here to help these creatures, then who is here to help her?
Kiyash Monsef's Once There Was is a magical tale that weaves and winds around the reader pulling them through a journey of fantastical beasts. Clever storytelling interleaves with adventure, mystery and legend, each strand braided to the next. It is an engaging and hypnotic read that opens your eyes to what could just be around you. The duality of reality and fantasy melded together in perfect unison. A fabulous read. Curriculum links: death, bereavement, friendship, hope, trust, betrayal, belief, myths and legends.
416 pages / Ages 10+ / Reviewed by Donna Burkert, teacher
Suggested Reading Age 9+
Janet
This is an extraordinary, many layered novel, weaving monsters with Iranian folklore and a girl unable to grieve for her parents and left with a gift she does not understand.
Marjan is struggling with school, trying to keep her father's vet practice going, and discovering that her father appears to have been treating the very mythical creatures he told her stories about. She becomes caught up in a world where mythical creatures are treated as commodities to be bought and sold, or kept in captivity by a man who believes he can save the world through them. But when she discovers the cost of doing so - an action which would involve huge chaos - Marjan acts. In doing so, she unlocks her own secret and finds a way to deal with her grief.
The pictures painted by the author of the cellars under the house where Horatio keeps his collection of these mythical monsters is not for the faint hearted. The manticore stands out because of its hostility and threatened power, but all live from the descriptions in the imagination once read about and are hard to erase. Marjan's courage in following what she thinks is her destiny and her father's will make her a hugely sympathetic character while her vulnerability and loneliness make the reader root for her throughout the story. Her friends who love her and try to understand her start to fall away but come through for her.
Kiyash Monsef is from the media world as well as being a writer and this does show in the word pictures he paints of this sometimes nightmare world in which one man thinks he can own and use these mythical creatures for his own vision.
416 pages / Reviewed by Janet Fisher, librarian
Suggested Reading Age 11+
Other titles