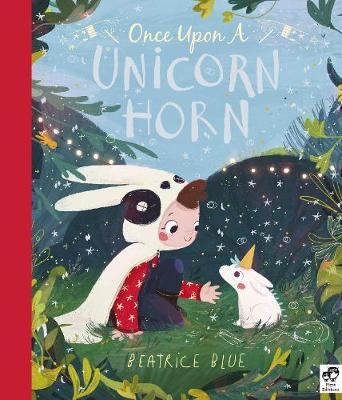 By Author / Illustrator
Beatrice Blue
Genre
Fairy Tales & Folk Tales
Age range(s)
5+
Publisher
Frances Lincoln Publishers Ltd
ISBN
9781786035882
Format
Hardback
Published
14-03-2019
Synopsis
Shortlisted for the 2020 Waterstones Children's Book Prize.

This magical and fun-filled story about how unicorns got their horns is the first in a new series about how magical creatures came to have their gifts.

Do you know how unicorns got their horns? It all began once upon a magic forest, when a little girl called June discovered tiny horses learning how to fly in her garden. But one of the poor horses couldn't fly at all! So, with the help of her parents, June thought of a very sweet and very delicious way to make her new friend happy. I wonder what it could have been...

'A lovely, heart-warming story, beautifully illustrated, with warm, friendly characters'
-Parents in Touch

'Themes of kindness, perseverance and never being afraid to ask for help are threaded into this joyful tale full of magic, colour and happiness'
-Library Mice

Don't miss Beatrice Blue's second book, Once Upon a Dragon's Fire, coming in March 2020!
Reviews
Lucy
I loved the idea of this picture book, Once Upon a Unicorn Horn, in which a little girl called June lives in a magical forest with her family, who spread their special magic among its creatures.
June is a fabulous character - lively, inquisitive and full of charm, as are the gorgeous illustrations. June spends her time hunting for 'treasures' in the woods, and one day spots some tiny magic horses learning to fly. They all manage to get off the ground, except for one forlorn little creature who can't. June tries to help it, including with a 'big wish', but to no avail. So mum and dad promise (in a shower of stars) that they will all help together. They gather all the things a tiny flying horse might like, and set off, and while things don't end up quite as they had planned, through a mishap and much laughter, everything is resolved.
This would be a wonderful book to share with children as its message - laughter and happiness, rather than worry and concern, will help us succeed - is that life is a little magical. It is also a gentle reminder to talk about things that are worrying us, and to take those problems to mum and dad or a caring grown up.
In the classroom, this would be a great starting point for encouraging children to build a story around their own 'magical wood' and the creatures they might be able to help- something the whole class can contribute ideas for.
In short, a lovely, quirky picture book that children - especially the unicorn fans among them - will love.
Picture book / Ages 4+ / Reviewed by Lucy Giles
Suggested Reading Age 3+
Other titles