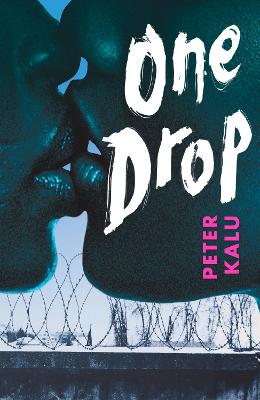 By Author / Illustrator
Peter Kalu
Genre
Dystopian
Age range(s)
14+
Publisher
Andersen Press Ltd
ISBN
9781839132063
Format
Paperback / softback
Published
04-08-2022
Synopsis
In war-torn Britain, inseparable Black Radicals Axel and Dune are arrested. With SIMs implanted in their heads, they are placed in a prison camp for those who defy the Bloods' white supremacist government. The SIMs brainwash them with the Bloods' evil philosophy, and drones constantly monitor their movements and thoughts.  In this living nightmare, the couple battle to keep their love alive and to break free. The odds on survival are long. Dune and Axel have very different takes on how to escape. But when things come to a head, will their love hold them together and set them free, or will it tear them apart?
See Also:   Three Bullets by Melvin Burgess
Reviews
Lorraine
In One Drop, Axel and Dune are captured by the 'Bloods' (Brotherhood of the Blood of Jesus). Chips inserted in their heads and placed in the ERAC (Evangelical Realignment Centre), every night they have to fight against brainwashing to retain their memories, who they are and what they believe. Aided by the camp resistance, they try to hold on for the delivery of a coded phone that will free them from the power of the chips. But how long can they hold onto their memories, and can the resistance be trusted?
Written as part of the 'Ruled Britainia' triptych, One Drop is one of three novels by different authors but all connected and imagined in the same world. Set in a dystopian future, England is at war with itself, the Bloods attempting to 're-educate' everyone who doesn't conform, ready for what they believe will be the second coming. Prior to reading this book, I had already read one of the others in the triptych, Three Bullets. It meant that some of the events made sense as they are inextricably linked. That said, the book stands up well as an individual and I found much to love, even though the content is hard reading.
The two main characters, Axel and Dune, are non-binary and their connection is tangible. The book is almost a repeating format, with the pair waking each day and fighting to regain their personalities after the night's brainwashing. Alongside, are the stories they tell each other nightly to combat the chips' power and this is how the reader finds out about their relationship, families and current situation. This format may sound repetitive, but it is endearing, emotive and full of courage, determination and above all, love.
The events surrounding and involving them, instigated by the resistance, give the book a connection to the triptych but also an insight into a society's collective force against oppressors. Like Three Bullets, the book shows quite clearly how easily everyday lives can be turned into a living nightmare and the reality of 'holding camps', such as those lived in every day by refugees.
Reading this book, I found myself drawn further into the triptych and would now like to read the third. I feel this could be a good group of books for a school library, as students always find it hard to know what to read next. With the three books linked by the world they inhabit and different styles of writing, they could open up great discussions in book groups. Equally, they work as individual books. Left open at the end, I wonder if we will hear more from this world. Recommended.
324 pages / Reviewed by Lorraine Ansell, school librarian
Suggested Reading Age 14+
Other titles