One in a Hundred Thousand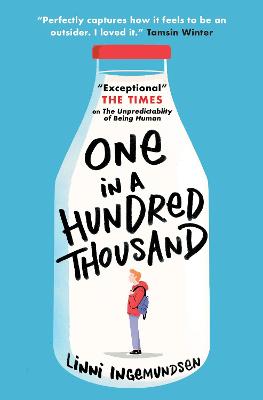 By Author / Illustrator
Linni Ingemundsen
Genre
Personal Growth
Age range(s)
11+
Publisher
Usborne Publishing Ltd
ISBN
9781474940641
Format
Paperback / softback
Published
04-03-2021
Synopsis
\"Perfectly captures how it feels to be an outsider. I loved it.\" Tamsin Winter Fifteen year old Sander wishes he was like everyone else. But he has Silver-Russell syndrome, a condition that affects one in a hundred thousand. It means he is smaller than all the other kids in school, a place where the biggest and the loudest get all the attention. Like Niklas.Everyone thinks Niklas is cool and good-looking - except Sander. He doesn't like the way Niklas brags, behaves like a jerk and lies. Niklas is one of life's tall people and next to him, Sander always ends up feeling small. But Sander is different in more ways than one. He notices things other people miss, and he's noticed something about Niklas...A moving coming-of-age classic, about fitting in, standing out and the power of friendship. 
Reviews
Catherine
The Unpredictability of Being Human is Linni Ingemundsen's first book and I have to say I love it so I was delighted to get my hands on her second book, One in a Hundred Thousand. And...it's another winner!
One in a hundred thousand, that's how many people have Silver-Russell Syndrome (SRS). Sander Dalen IS one in a hundred thousand and he's trying everything to mitigate the characteristics of SRS. He eats all the carbs he can get, takes growth hormone and is deliberately failing school hoping he'll be held back a year so he won't be the shortest boy in his class...it's not his best plan to date and deep down he knows it won't work, 'most of them were growing past me already. It really was a ridiculous plan.'
Sander's best friend is his younger brother, Adrian, one year his junior; in his company (and their friend, Filip's) Sander feels comfortable and understood, feeling somewhat 'other' in his own peer group. They hang out together at break times and after school; in this vein, life has a rhythm to it. Until Niklas turns up. He's the new boy in Adrian's class and he walks to the beat of a different drum, which Sander finds annoying, and irritating. His bravado is a little 'off' but it's only Sander that notices. Striking up a surprise friendship from an unlikely source Sander soon understands the meaning of friendship and of 'otherness' and the wisdom of his friend's words: 'All you can do is be you.'
Like I said earlier, another winner from Linni Ingemundsen. Her style is beautiful, so accessible, Sander's narrative steering you through the good and the bad. I wholeheartedly encourage you to give it a read!
335 pages / Reviewed by Catherine Purcell, school librarian
Suggested Reading Age 11+
Other titles