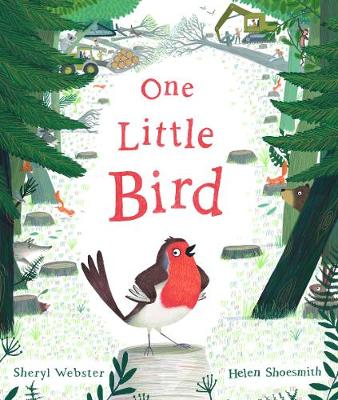 By Author / Illustrator
Sheryl Webster, Helen Shoesmith
Genre
Environment
Age range(s)
5+
Publisher
Oxford University Press
ISBN
9780192773661
Format
Paperback / softback
Published
04-02-2021
Synopsis
When a man cuts down little bird Rosa's tree, she makes herself a new nest at the top of his house and refuses to budge. News of her protest sweeps through the animal kingdom and it inspires other animals to start moving into people's homes in protest too! A funny and heartwarming introduction to an important environmental issue and the power we all have when we work together.
Reviews
Jessica
One Little Bird really can make all the difference! This book is certainly one for the environmentalists. Sheryl Webster has created many phonetically decodable books for companies to support children on the earliest stages of their reading journey. It is a delight to have a picture book from Sheryl which also has the power to make a huge difference to our children and the way they see the world.
The story begins as a keen gardener decides he needs to chop down his only garden tree that houses a little red robin named Rosa (despite the huge amount of space he has in his garden). When relocating, Rosa discovers that the chopping down of trees was a much bigger issue that she had first realised. Many animals were losing their homes and there was only one thing for it… they moved into people's houses to see how they'd like that!
I really enjoyed my second read of the book where my focus could be drawn more towards Helen Shoesmith's delightful illustrations. I did chuckle at the winking animals as they went where no other had been before… sloths on sofas, monkeys in bathtubs and lions in the laundry!
This picture books features a back page titled, The real-life story behind One Little Bird, which discusses the issue of land being cleared for farming and building. This sparked much discussion - even in my class of 4 and 5 year olds. This book is ideal to use as a catalyst for discussing environmental issues. Ending with a suggestion to get green-fingered and join a gardening club, this book be very relatable for children in school, clubs and those whose parents would like to encourage them to enjoy their own garden.
Picture book / Ages 4+ / Reviewed by Jessica Bunney, teacher
Suggested Reading Age 3+
Jane
Rosa is one little bird, one feisty little robin, in fact. If the man can take away her home at the chop of his axe, then, she decides, she can take away his hat at the beat of a wing. And what's more, she can muster other creatures to join her cause: to defend their homes from tree-fellers and construction workers.
Rosa becomes the talk of the wild and the inspiration for a multitude of direct actions - sloths holding sit-ins on sofas, giraffes claiming beds, lions the laundry. But the tension rises and little Rosa knows she must defuse it. Again her rallying cry goes out, but this time both sides listen. It seems they are not so different: humans and animals both love their homes and want them back. With respect, understanding and care, surely a happy outcome isn't so far-fetched?
The improbable and comical nature of this tale is obvious, but it has a very clear message, making this a book to have in the classroom when exploring environmental topics with Key Stage 1, as well as at home.
The clear presentation of simple text on white pages interspersed between jolly pictures will be helpful when sharing this book with a group. But the illustrations are also a joy when viewed close-up: the characters' eyes alone vividly telling the story. I also admire the illustrator's skill at beautifully depicting the different textures of wood and vegetation, fur and feather. I, for one, look forward to sharing this book with young people.
Picture book / Ages 4+ / Reviewed by Jane Rew, school librarian
Suggested Reading Age 5+
Other titles