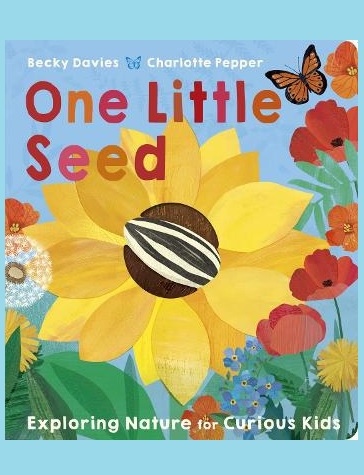 By Author / Illustrator
Becky Davies, illus Charlotte Pepper
Genre
Environment
Age range(s)
5+
Publisher
Little Tiger Press Group
ISBN
9781801041867
Format
Board book
Published
14-04-2022
Synopsis
From one little seed, a beautiful flower can grow . . .  This fact-packed lift-the-flap book encourages young children to head out into nature and EXPLORE! Little ones will love learning how different flowers grow, where to find them, and even how to plant a seed of their very own. Packed with simple facts, activities and prompts, this is the perfect book to inspire a love of nature in your child.
One Little Seed is part of an engaging non-fiction series with a call to action at its core: for curious children to get out into nature. Each title empowers little ones to interact with the world around them, no matter where they live or what their circumstances are.
Coming Soon: One Little Egg and One Little Bug
Reviews
Lynnette
One Little Seed looks like a simple, colourful lift-the-flap board book - until you open up the brilliantly designed book cover to find an engaging, informative text, following the story of seeds into plants. The photo illustrations combine with the detailed drawings to introduce the concepts of germination, through to pollination and beyond.
Each page has at least five different plants and animals to explore, while each flap reveals factual nuggets which are easy to read and understand. Throughout the text are experiments and ideas from mini beast hunting to seed-bomb making. The seed story develops from looking underground, with ideas from finding mini beasts along the way to planting your own seed.
The learning journey continues with pollination from insects to the plant growing fruit and flowers.  The link to emotional wellbeing through being outside in gardens is cleverly brought into focus, the book finishing off by considering the plant's life cycle and its importance.
This book could be used as a support in EYFS and KS1 science curriculum connected to plants and living things. Older children will be able to access the information to be found scattered through the book, whilst younger children in a small group would be held captivated by hearing the narration whilst being allowed to lift the flaps and discover the facts. This is a complete gem of a book and will bring much pleasure to early and young readers.
Board book / 14 pages / Reviewed by Lynnette, teacher
Suggested Reading Age 5+
Other titles