Onyeka and the Academy of the Sun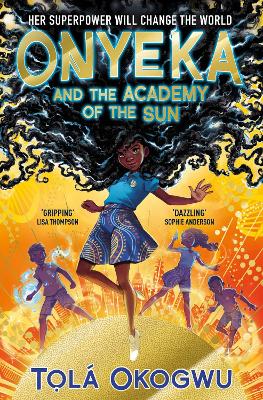 By Author / Illustrator
Tola Okogwu
Genre
Adventure
Age range(s)
9+
Publisher
Simon & Schuster Ltd
ISBN
9781398505087
Format
Paperback / softback
Published
09-06-2022
Synopsis
Black Panther meets Percy Jackson in this action-packed and empowering middle-grade superhero series about a British-Nigerian girl who learns that her Afro hair has psychokinetic powers. Soon to be a feature film with a major streamer!

'I close my eyes, trying to push the power bubbling in me back down . . . Hairbands snap as my hair shoots out like superfine arrows, tearing through everything in its path.'  Onyeka has a lot of hair - the kind that makes strangers stop in the street. She's always felt insecure about her vibrant curls, until she makes an important discovery: she can control her hair with her mind!  Her mother quickly whisks her off to the Academy of the Sun, a school in Nigeria where Solari - children with superpowers - are trained. But Onyeka and her new friends at the Academy soon have to put their powers to the test as they find themselves caught up in an epic battle . . . one that puts the future of all Solari at risk.
Reviews
Sue
Onyeka has always felt conscious about her hair, which is exuberant and often difficult to manage. She feels it draws unwanted attention which enhances her feeling that she does not quite fit in. She and her mother left Nigeria to come to England and her mother, although loving, is overprotective and unwilling to discuss Onyeka's father. When Onyeka goes to the pool with her best friend, Cheyenne, things go very wrong and Cheyenne nearly drowns; however, somehow Onyeka - and her hair - manage to save Cheyenne, leading to the discovery that Onyeka is not entirely human and her father was Solari, someone with amazing powers, and who is now missing. Together, they leave for Nigeria to get help from Dr. Dòyìnbó, her father's mentor and there, Onyeka meets other Solari children, notably Niyì, Hassan and Adanna, at a school where Solari children are trained. When her mother goes missing, Onyeka finds herself embroiled in a battle for the truth.
There is so much to recommend in Onyeka and the Academy of the Sun that it is hard to know where to begin. Onyeka is a fabulous character whose feelings about her hair not only offers an opportunity for celebrating the beauty of Afro textured hair, but also allows any reader to identify with the feeling of hating some part of your appearance. As she learns to accept her magnificent hair and appreciate its power, Onyeka grows as a character, both in confidence and in determination. I love her loyalty as a friend and the fact that her friendship with Chey - and later, the others - is what grounds her and enables her to control her power. The development of her friendship with Adanna is particularly well handled. Initially, prickly and unwelcoming, Adanna is far from being the perfect roommate, but over time, Onyeka comes to understand and appreciate her, learning that she can be fiercely loyal and supportive. Onyeka's other academy friends, Niyì and Hassan, are also well developed characters with Hassan's use of Nigerian Pidgin English being an interesting addition.
Author Tọlá Okogwu's note at the end of the story not only offers meanings for the words used, but gives a short explanation to help the reader put this into context. The Academy is brilliantly described and bursting with technological advances and inventions. Divided into four houses, each represented by a different colour containing children with different abilities, there are the usual school rivalries, tensions and falling outs showing human nature remains the same whether you have super powers or not!
Onyeka and the Academy of the Sun would make a brilliant class read, rich in cultural references, for children in UKS2, both those who love superheroes and those who love a good story. The ending implies there is more to come from Onyeka, which I look forward to reading!
320 pages / Reviewed by Sue Wilsher, teacher
Suggested Reading Age 9+
Other titles