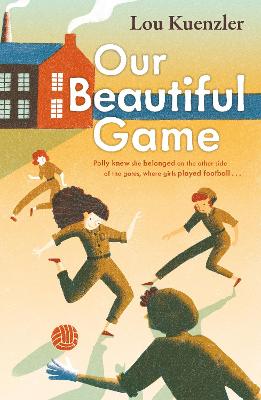 By Author / Illustrator
Lou Kuenzler (Author)
Genre
Historical Fiction
Age range(s)
11+
Publisher
Faber & Faber
ISBN
9780571365005
Format
Paperback / softback
Published
01-07-2021
Synopsis
A stand-out novel inspired by the incredible true stories of female football legends like Lily Parr and Alice Woods.  'They can take our ball, but they can never stop the game.'  Polly Nabb is no stranger to trouble. When her brother Joe is sent to serve in the trenches, all Polly wants is to kick a ball about and forget the war. Mam has other ideas, and makes her stay home to help with endless chores. But football is something Polly is prepared to fight for - it's her life! She's determined to do whatever it takes to fulfil her dream and show the world that football is not just for boys . . .
The war years: a time of trailblazing female footballers, like the legendary Lily Parr, who played to sell-out crowds. Polly's dramatic wartime story celebrates those bold young players who changed attitudes to women on the pitch and salutes the unsung heroes on the Home Front, too. 
Reviews
Linda
Our Beautiful Game is set during the First World War. The plot has been cleverly wrapped around true historical events and the author, through her wonderful writing, shows how much she has researched her topic by basing her central character on the life of the famous female footballer, Lily Parr.
Polly Nabb dreams of being a footballer, it's all she wants to do but there are so many obstacles in her way. She lives at home with her mam, dad and numerous siblings in poverty. Her mam stops her from going to school as she is needed to do the household chores, her older brother constantly laughs at her ambition. He's not the only one, as the men of her town also firmly believe a woman's place is in the home and not on the football field. However, Polly is not the sort to let these adults get in her way; she only needs one chance to get noticed, but will she achieve it?
The author draws on historical fact within the story showing the reader what life was like for working class girls during the war, what they had to sacrifice, and showing some of the dangerous conditions they had to work in order to help and support the men during the war.
Our Beautiful Game is suitable for the 11+ reader. The book would also be great for book clubs due to the many discussion points raised throughout the story and notes for further reading in its final pages. This is truly an inspirational story and a must for all those female footballers who love the sport they have chosen.
400 pages / Reviewed by Linda Brown, school librarian
Suggested Reading Age 11+
Julie
I absolutely loved this book, I found it so compelling that I just couldn't put it down. Lou Kuenzler's historical fiction novel Our Beautiful Game grips you from the very first page.
Set toward the end of World War One, we are introduced to our hero and main protagonist, 12-year-old Polly Nabb. Polly lives in abject poverty in an industrial Lancashire town. She lives with her brothers, her dad and her mum who is heavily pregnant. Life at home is tough, really tough, especially for Polly as her mother is very strict on her. She is forced to leave school to help carry out the domestic chores at home and to look after her younger siblings. But all Polly really wants to do is to play football.
When Polly's eldest brother is called up to fight at the front she is told that she must go to work to bring in money for the family. A chance encounter sees her employed at the local munitions factory where, to Polly's absolute amazement, the girls play football on their breaks. Against all odds, Polly is determined to do whatever it takes to fulfil her dream to play and to show the world that football is not just a man's game.
As the book draws on historical fact, Kuenzler's portrayal of working-class life on the Home Front leaves the reader with a real sense of the sacrifice that these young munitionettes had to face. We can see how hard and dangerous life was for these young women who were working in terrible, relentless conditions. However, whilst the book is very sad in parts, we are also reminded of the comradery that these women had. The book shows us the importance of friendship and how women relied on each other to get themselves through the darkest of times.
Our Beautiful Game is inspired by those trailblazing female footballers who were the first women to challenge the male-dominated sport. Through Polly, we experience just a taste of what these women must have experienced at this time. We not only see the struggles and misogynistic attitudes that women had to face because they wanted to play football, but we also see the absolute joy of the game and how important it was for them to be part of such a special team.
Gripped in the shadow of World War One it shows how women really had to fight at home to be allowed to play a sport that they loved. It highlights how the male-led Football Association moved in closer to clamp down and stop them playing. Filled with wonderful characters that will make you laugh as well as cry. this book is a must read of the year.
400 pages / Reviewed by Julie Broadbent, school librarian
Suggested Reading Age 11+
Other titles