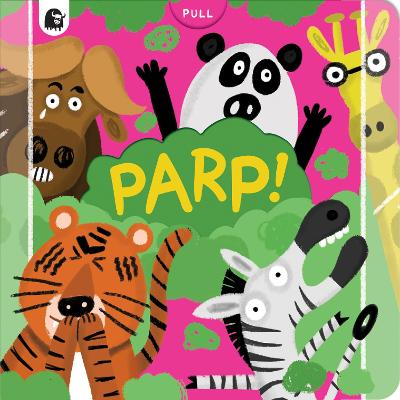 By Author / Illustrator
Mike Henson, Jorge Martin
Genre
Funny Stories
Publisher
Happy Yak
ISBN
9780711266230
Format
Board book
Published
15-02-2022
Synopsis
PARP! What's that smell? In this interactive board book, a group of animals enters a lift - at each floor, one of the animals breaks wind, producing a really stinky whiff! But who did it? As each animal exits the lift, it slowly becomes clearer who the 'parper' is... and it's not who you expect! This sturdy board book includes pull-out sliders, which reveal extra story details - whether it's the giraffe's incredibly long neck or the mystery stinky culprit! Bright, playful illustrations, and lovable animal characters will make Parp! a firm family favourite. This robust board book and its fun sliders will withstand hours of hilarious fun.
Reviews
Jessica
PARP! is written by the very well-travelled author Mike Henson. He's a father of three so it's no surprise that he knows what can get children laughing for hours. The cover is sure to grab your attention with its vibrant colours, interactivity and of course, the giant 'PARP!' - You just know this is going to be a hysterical one!
We join a diverse, characterful group of animals as they awkwardly share a lift when the most embarrassing thing happens… one of them breaks wind! But who was it? Each time a floor is reached, one animal gets out and the wait is on as the door closes to see if they were the source of the questionable smell.  However, there is a surprising culprit which no one will see - or smell - coming! The book gets funnier and funnier right up to the very last page where you'll be left wanting more.
The robust pull-outs add another hilarious layer to the story as they reveal the lift's residents – two spiders who spend their time doing all they can to get rid of the pong! PARP! is best enjoyed with others where there will be giggles a plenty! Suitable for all ages - especially dads and grandads!
Picture Book / Reviewed by Jessica, parent
Suggested Reading Age 0+
Other titles