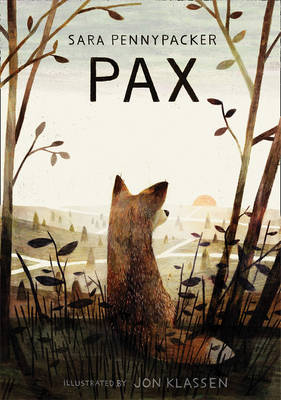 By Author / Illustrator
Sara Pennypacker, Jon Klassen
Genre
Friends and family
Age range(s)
9+
Publisher
HarperCollins Publishers
ISBN
9780008158286
Format
Paperback / softback
Published
01-09-2017
Synopsis
The moving story of the extraordinary friendship between a boy and his fox and their epic journey to be reunited. Beautifully illustrated by multi-award winner, Jon Klassen. Now available in Paperback!
Pax was only a kit when his family was killed and he was rescued by 'his boy', Peter. Now the country is at war and when his father enlists, Peter has no choice but to move in with his grandfather. Far worse than leaving home is the fact that he has to leave Pax behind. But before Peter spends even one night under his grandfather's roof he sneaks out into the night, determined to find his beloved friend. This is the story of Peter, Pax, and their journeys back to each other as war rampages throughout the country.
A profound and moving story with stunning illustrations by award-winning illustrator, Jon Klassen, 'Pax' is destined to become a classic in the vein of 'Charlotte's Web' and 'Watership Down'.
Reviews
Melanie
Pax is the story of how a boy and his abandoned fox reunite against all the odds. Despite his father, a 300 mile trek, a broken leg and a war zone, Peter proceeds with unwavering determination to find his fox, Pax. He is reluctantly helped by Vola, who has been damaged by her experiences as a soldier in a previous conflict and has difficulty trusting anyone including herself.
The bond of friendship between Peter and Pax is remarkable and it is this that makes Pax equally determined to find his boy. Pax doesn't know how to hunt or protect himself and has never been left on his own in the wild before. He braves starvation, a minefield and an attacking pack of coyotes to reach his boy. He is reluctantly helped by a female fox, Bristle, whose whole family was destroyed by humans except for her young pack brother, Runt. She can't understand why Pax would want to find Peter as all humans are untrustworthy.
I loved the parallel stories and how each of the two main characters, the boy and the fox, developed and grew throughout the book and the way they learned much about themselves and their place in the world. Vola and Bristle made great supporting characters; the portrayal of the complicated nature of them both in such a simple way was superb. Runt was delightful.
A great story just to enjoy, but has plenty to keep a class or group going with discussion too. Good readers from age 10 would enjoy it, and would also have something for teenage readers too. Unusually for serious book for this age group, we are also treated to some great illustrations.
276 pages / Ages 10+ / Reviewed by Melanie Chadwick, school librarian.
Suggested Reading Age 9+
Other titles