Peanut Jones and the Illustrated City (paperback)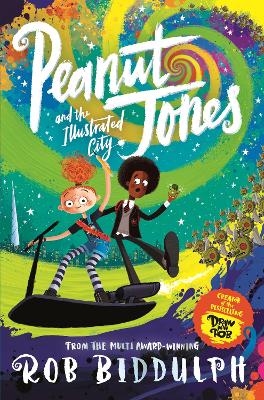 By Author / Illustrator
Rob Biddulph
Genre
Magical Realism
Age range(s)
7+
Publisher
Pan Macmillan
ISBN
9781529040531
Format
Paperback / softback
Published
17-03-2022
Synopsis
Superstar, author and illustrator Rob Biddulph dazzles in Peanut Jones and the Illustrated City, the first title in an adventure series for boys and girls of 8+. Fizzing with magic, danger, friendship and art, this exciting, funny, middle-grade debut is from the bestselling creative genius behind #DrawWithRob.

Some legends are born, some are drawn . . .

Drawing feels like magic to Peanut Jones. But art can't fix her problems. Her dad has gone missing, and she's stuck in a boring new school. Until the day she finds a unique pencil turbo-charged with special powers. Suddenly she's pulled into a world packed with more colour, creativity, excitement and danger than she could ever have imagined. And maybe, just maybe, she might find out what happened to her dad.
Reviews
Nicola
I have to admit that as someone that lacks any artistic bone in their body, I did worry that I wouldn't be able to relate to Peanut Jones in Peanut Jones and the Illustrated City. I needn't have worried though, Rob Biddulph has created a world where everyone belongs and one that everyone should visit, where we can celebrate the joy that creativity can bring and the damage that stifling this can do.
The book centres on Peanut Jones, a girl who is desperately lonely after her father goes missing and who feels misunderstood by her mother. Peanut shared a love of art with her father, she would watch him create masterpieces and conjure beauty out of thin air, a talent she herself was developing. All of this comes crashing down one day when her mother moves her to St Hubert's, a school dedicated to maths and science and most certainly not encouraging of any creativity.
Peanut has no friends, no outlet and no one who understands her. Imagine her surprise when she finds a hidden gift from her dad, one that leads her to a magical world filled with art and ideas. Imagine her horror when she finds that the world is under threat and her father was trying to help - all of that responsibility falls on her shoulders now. Along with a reluctant study buddy, Rockwell, her accidental tag-a-long 5-year-old sister, Little Bit, and a drawing of a dog, Doodle, they set about to save the world and rescue her father.
This is a beautiful book, the images on the page and the magnificent imagery created by the words exist in perfect harmony, each helping the other to tell the story of Peanut's emotions and journey. There is a real joy in this book, one of finding strength and friendships along with the sting of real life and the pain of losing a parent. Like Rob Biddulph says, 'Some legends are born, others are drawn…' and Peanut Jones and her plight are most definitely that of a legend.
384 pages / Ages 8+ / Reviewed by Nicola Mansfield Niemi
Suggested Reading Age 7+
Other titles