Percy Jackson and the Titan's Curse (Book 3)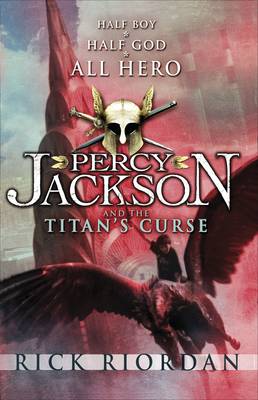 By Author / Illustrator
Rick Riordan
Genre
Adventure
Age range(s)
9+
Publisher
Penguin Random House Children's UK
ISBN
9780141321264
Format
Paperback / softback
Published
01-05-2008
Synopsis
The Titan's Curse: the third book in Rick Riordan's Percy Jackson series.
The third book in the most exciting commercial fantasy adventure series since Artemis Fowl. Now in paperback with a thrilling new cover look.
It's the last Friday before the winter holidays but Percy Jackson isn't at school: he's battling the fearsome Manticore (half human, half lion), which in itself isn't ideal . . . but with Annabeth missing and the goddess of the hunt held captive, things get a whole lot more serious . . .
Greek mythology relocated to modern-day America. Action-packed, funny, accessible writing for both boys and girls aged 10+. Perfect for fans of Harry Potter and Artemis Fowl.
Praise for the Percy Jackson series:
'Witty and inspired. Gripping, touching and deliciously satirical...This is most likely to succeed Rowling. Puffin is on to a winner' - Amanda Craig, The Times
'Puns, jokes and subtle wit, alongside a gripping storyline' - Telegraph
'Perfectly paced, with electrifying moments chasing each other like heartbeats' - New York Times
Rick Riordan is an award-winning mystery writer. For the past fifteen years he has taught at middle schools in the San Francisco Bay area and in Texas. Rick lives in San Antonio, Texas, with his wife and two sons. Percy Jackson and the Lightning Thief, the overall winner of the Red House Children's Book Award, was Rick's first novel featuring the heroic young demigod.
The Percy Jackson series:
The Lightning Thief; The Sea of Monsters; The Battle of the Labyrinth; The Titan's Curse; The Last Olympian
Heroes of Olympus:
The Lost Hero; The Son of Neptune; The Mark of Athena
The Kane Chronicles:
The Red Pyramid; The Throne of Fire; The Serpent's Shadow
Other titles