Perfectly Norman: A Big Bright Feelings Book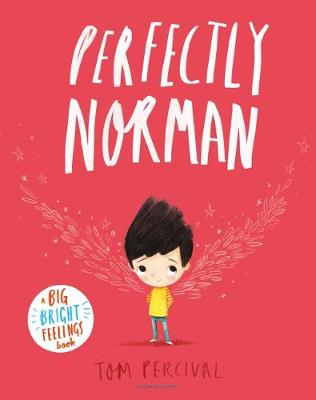 By Author / Illustrator
Tom Percival, Tom Percival
Genre
Personal Growth
Age range(s)
5+
Publisher
Bloomsbury Publishing PLC
ISBN
9781408880975
Format
Paperback / softback
Published
10-08-2017
Synopsis
Be open, be honest, be you! Big Bright Feelings for little people.  Norman had always been perfectly normal . . . until the day he grew a pair of wings!  Norman loves his new wings, and has the most fun ever trying them out high in the sky. But then he has to go in for dinner. What will his parents think? What will everyone else think? Norman feels the safest plan is to cover his wings with a big coat. But hiding the thing that makes you different proves tricky and upsetting. Can Norman ever truly be himself?  This poignant and uplifting story about individuality is filled with stunning artwork in a striking minimal palette. From Tom Percival's bestselling Big Bright Feelings series, it is the perfect book about self-acceptance and being yourself.
Reviews
Nikki
Another addition to Tom Percival's fantastic array of 'big, bright, feelings' books; helping children navigate social situations and express their feelings. Beautiful from start to finish! Perfectly Norman is about a little boy called Norman who was so perfectly normal until one day he grew wings! Norman loved the fun of his new wings but wasn't sure how everyone else would react or whether they might judge him for being different. Norman decides to hide his wings from everyone by wearing a great big coat.
As time goes on, its not the wings that make Norman stick out but instead the thick coat he wears everywhere; to the swimming pool, in bed and at bath time and it's making him miserable. Eventually Norman remembers how happy he was when he first got his wings and flew high up into the air having the most fun ever! So Perfectly Norman finds the courage to accept what makes him different and embraces it, taking off the coat.
This is such a sweet book to use in any primary classroom to encourage discussion around differences and accepting one another. The topic alongside the brilliant illustrations allows children of any identity to relate. The penultimate page is an absolute delight, it shows how Norman has encouraged others to be themselves, spread their wings and show off what makes them unique. This would make for a lovely classroom activity. Each child could design a set of wings that depict what makes them different and unique. A great read!
Picture book / Reviewed by Nikki Stiles, teacher
Suggested Reading Age 5+
Other titles