Queer Up: An Uplifting Guide to LGBTQ+ Love, Life and Mental Health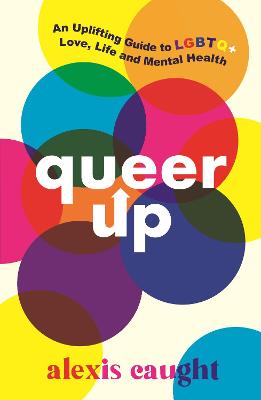 By Author / Illustrator
Alexis Caught
Genre
LBGTQ+
Age range(s)
14+
Publisher
Walker Books Ltd
ISBN
9781406399226
Format
Paperback / softback
Published
20-01-2022
Synopsis
A positive and uplifting book for young people who are queer or curious - and their allies looking to support them.

In this empowering and uplifting book, award-winning podcaster Alexis Caught sets out to help queer and curious teenagers explore their LGBTQ+ identity and understanding. Alongside the author's personal experiences are first-hand stories from notable LGBTQ+ figures, providing a inclusive account of what it means to grow up queer. With chapters on questioning, coming out, friends and family, love, sex, shame, pride and allyship, this is insightful, thoughtful and reassuring book is essential reading for any questioning teen and their allies looking to support them.
Reviews
Stephen
"Breathe. Just breathe", is the starting advice in Queer Up by Alexis Caught, an incredible, uplifting and honest book offering positive advice and information to LGBTQ+ teens and allies, who may have questions about their identity. Chapter themes include looking at coming out, big questions, love, pride, mental health, gay shame, transgender and allyship, though many of these themes cross chapters. There is also a brilliant section on further resources and support that are available, and infographics and simple illustrations throughout the book, helping to make it very accessible, informative and enjoyable.
Written in a very positive and relaxed style, Alexis makes the reader feel very at ease, reminding the reader often that what they are feeling is normal and nothing to be ashamed of - "You are you, lovable and special". This is backed up in the book with a real focus on the importance of keeping positive and good mental health, with advice and strategies to help you to do this, like using the 54321 method to relax and calm you if you're feeling anxious.  The section looking at coming out was so positive with great advice, especially highlighting that it is fine to come out and fine not to come out if you don't feel you can, and not to feel you've done something wrong if people react badly to you coming out. You are the priority; advice I could have done with when younger.
The book also features several chapters written by other people from the LGBTQ+ community, invited by Alexis to do so to keep the advice and insight authentic, particularly for chapters on Trans and Allyship. Allies are mentioned throughout the book and this is great to see. There is real insight into what your LGBTQ+ friend may be going through and advice on how you can best support them.
There are lots of real life examples and comments in each section of the book from a range of different people and experiences in the LGBTQ+ community, reminding the reader that everyone's experience growing up LGBTQ+ will be different but are equally as valid. And the community is a broad and diverse one as the LGBTQ+ alphabet illustration shows, and Alexis reminds us that your tribe is out there; you may just need to find it.  I thought the section on social media was excellent both in highlighting that is can be the way to meet people and find friends but you have to be careful and keep yourself safe, and in the role it can play on negatively affecting teens' mental health.
The Years of Queers sections that pop up throughout the book are excellent short insights into aspects of LGBTQ+ history, giving readers background and context to the LGBTQ+ experience. The list of resources and weblinks for further information round the book off nicely.
As I was reading this book, I felt like I was getting a great big LGBTQ+ hug and hope all readers of this book feel this too. I wholeheartedly recommend this book whether you're an LGBTQ+, straight, questioning or just curious, teenager, adult, parent or teacher. This is the best book I've come across aimed at helping LGBTQ+ teens understand and explore their identity, while offering a real insight for non-LGBTQ+ teens and adults into the questions and concerns of LGBTQ+ teens. "You are you, lovable and special" - remember that.
256 pages / Reviewed by Stephen Leitch, school librarian
Suggested Reading Age 14+
Other titles