Quests for Glory (The School for Good and Evil, Book 4)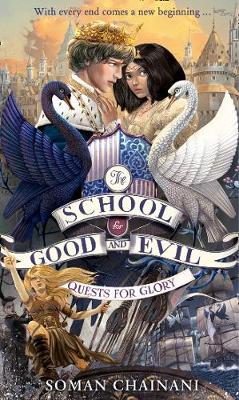 By Author / Illustrator
Soman Chainani
Genre
Fantasy
Age range(s)
11+
Publisher
HarperCollins Publishers
ISBN
9780008224479
Format
Paperback / softback
Published
11-01-2018
Synopsis
With every end comes a new beginning... Join your favourite students from the School for Good and Evil in the exhilarating fourth book in this bestselling series.
Before they can graduate, the students of the School for Good and Evil must complete their fourth-year Quests for Glory. The stakes are high: success brings eternal adoration, and failure means obscurity forever. For their quests, Agatha and Tedros are trying to return Camelot to its former splendour as queen and king. For her quest, Sophie seeks to mould Evil in her own image as Dean.  But they soon grow isolated and alone, and all of the students' quests seem to plunge into chaos. Amidst obstacles both dangerous and unpredictable, who will rise and lead the charge to save them . . . ?
See also:  A Crystal of Time (The School for Good and Evil, Book 5)
Reviews
Linda
The School for Good and Evil was at first meant to be a trilogy and what a wonderful, adventurous trilogy it turned out to be. In fact, so good that the author decided to continue this amazing quest. But how? (I'm going to try not to add any spoilers just in case you haven't read book 3.) How can you continue when the last book ended with the main characters' Happy Ever After? Simple! The author has skilfully let the reader delve deeper into the 'Ever Afters' of Tedros, Agatha and of course Sophie.
Quests for Glory is mostly set at the legendary Camelot and its surrounding kingdom. Tedros prepares for his coronation, wanting to present Agatha as his Queen and to re-introduce his mother Guinevere and Lancelot, taking away their death sentences when he becomes King. However, things do not go to plan; the coronation is a disaster and Tedros now appears weak to the people of his Kingdom. He cuts himself off from Agatha, who is desperate to help him put things right. There is discord in the Kingdom - murders, fires, theft - all being carried out by a new character called The Snake, who is claiming that Tedros is a false King. The people of Camelot want Tedros to help them, but he stays in his castle, planning instead of acting, and his subjects are beginning to doubt him.
Meanwhile, at the schools for Good and Evil, Sophie is making changes as the new Dean of Evil. She is spending time refurbishing her school as a 'shrine to Sophie', the other teachers of course, are not in favour of these changes. Sophie feels left out from Agatha's life as she is not responding to requests to help with the wedding and once again, her doubts about their friendship settle in.
In a dramatic turn of events, Agatha leaves the castle to seek out their friends from the school who are on various quests around the Kingdom which leads her into immense danger...
Quests for Glory is a thrilling story full of humour, action and adventure. A rollercoaster ride that's full of twists and turns, it includes mild violence, death, grief, love, loyalty and of course friendship, all blended in with lots of magic and wizardry. This superb fantasy tale reunites the reader with our favourite characters from previous books and introduces us to some sinister new ones. I also liked the addition of Robin Hood and his Merry Men, along with the Sheriff of Nottingham, who is Dot's father! So funny, at times sad, really never a dull moment in Sherwood!
The book contains 568 pages with manageable chapters that have illustrations, making it suitable for all level of readers from 11+.  This series is well worth the read, it's different, you really begin to invest in these characters. I for one will miss them when the author decides its the end. I'm picking up book 5 now, A Crystal of Time. After the dramatic ending of this story, I'm eager to find out how this saga continues and possibly concludes!
576 pages / Reviewed by Linda Brown, school librarian
Suggested Reading Age 11+
Other titles