Rabbit and Bear: Rabbit's Bad Habits: Book 1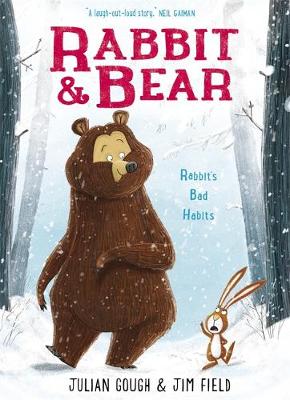 By Author / Illustrator
Julian Gough, Jim Field
Genre
Adventure
Age range(s)
5+
Publisher
Hachette Children's Group
ISBN
9781444929317
Format
Hardback
Published
14-01-2016
Synopsis
Gorgeously illustrated and with a classic feel, this is a brilliantly funny story of a rabbit and a bear who discover that things are always better when they're shared with a friend. Ideal for readers moving on from picture books.
'A perfect animal double-act.' (The Times, Book of the Week)
Bear wakes up early from hibernation. If she can't sleep, then at least she can make a snowman. Rabbit has never made a snowman, but he definitely wants to make one that's better than Bear's.
But with an avalanche and a hungry wolf heading his way, Rabbit soon realises that it might be nice to have a friend on his side.
From novelist and playwright Julian Gough, and the winner of the Roald Dahl Funny Prize, Jim Field, this is a tale of friendship, gravity, and just a little bit of poo.
'Rabbit's Bad Habits is a breath of fresh air in children's fiction, a laugh-out-loud story of rabbit and wolf and bear, of avalanches and snowmen. The sort of story that makes you want to send your children to bed early, so you can read it to them.' Neil Gaiman

*Shortlisted for the Children's Book of the Year in the Irish Book Awards*
Reviews
Elizabeth
This is a simple story about a friendly, caring bear, who comes across a grumpy, stingy rabbit when he awakens from hibernation a little early! Rabbit is more worldly than bear, but doesn't like being a rabbit, he's pessimistic and, frankly, quite rude! Luckily, Bear looks for the good in everything and by the end of the story, after helping Rabbit to escape becoming a meal for a wolf, the two settle into a lovely friendship. This book has themes about manners and friendship. It's fairly easy to interact with, but does feel like it's trying a bit too hard to be funny! There's not too much text on any of the pages, and the story is told beautifully through the lovely, cartoon illustrations. This book isn't one of my favourites, but it's a cheeky story, that I think would appeal to many boy readers who like toilet humour (Rabbit eats his own poo!), or reluctant readers who are looking to be entertained by a book. 112 pages / Ages 7+ / Reviewed by Lizi Coombs, teacher.
Suggested Reading Age 7+
Sue
Bear is awoken early from her hibernation and decides that if she can't sleep, she'll make her first-ever snowman. Rabbit has never made a snowman either - and is determined to make one better than Bear's. However, when faced with a hungry fox, Rabbit learns that a friend in need is a friend indeed! This is an amazing little book that is quite different from anything else I have read recently! As well as learning about gravity and the workings of a rabbit's digestive system (yes, there are a lot of discussions about poo!), we watch as these two very different characters develop a firm friendship as they come to understand and value each other. Bear is a wonderfully 'glass-half-full' personality. Someone has woken her up and stolen her food- well, it's a beautiful day and she's always wanted to build a snowman! Rabbit, on the other hand, is a fairly joyless soul, who hates being a rabbit, thinks life is pretty awful - and is the one who stole Bear's food. The illustrations are absolutely wonderful, capturing the creatures' personalities perfectly and using a very simple range of colours. The book is also just the right size for little hands. Perfect for both emergent and more confident readers, this is one of those special books that offers so much: humour, good writing, fabulous illustrations and two wonderful, mismatched friends that I hope are going to be at the heart of many tales to come. 112 pages / Ages 5+ / Reviewed by Sue Wilsher, teacher.
Suggested Reading Age 5+
Other titles