Race to the Frozen North: The Matthew Henson Story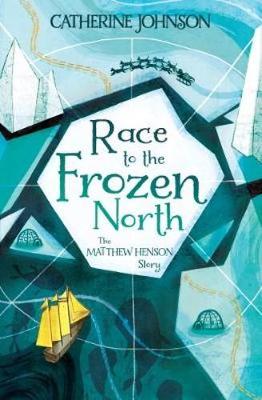 By Author / Illustrator
Catherine Johnson, Katie Hickey
Genre
Representation & Inclusion
Age range(s)
9+
Publisher
Barrington Stoke Ltd
ISBN
9781781128404
Format
Paperback / softback
Published
05-09-2018
Synopsis
Matthew Henson was simply an ordinary man. That was, until Commander Robert E. Peary entered his life, and offered him a chance at true adventure. Henson would become navigator, craftsman, translator, and right-hand man on a treacherous journey to the North Pole. Defying the odds and the many prejudices that faced him to become a true pioneer. This is his incredible and often untold story. Particularly suitable for struggling, reluctant or dyslexic readers aged 8+
Reviews
Joanna
Original and inspiring, this short historical story will capture your heart; it's a real page turner.  Race to the Frozen North tells the tale of Matthew Henson - a young black child - who runs away from his violent stepmother and ends up becoming the first man to reach the North Pole. Matthew is young, sweet and enthusiastic. He finds work in a little cafe and soon becomes enthralled with the idea of travelling the world on a boat. Soon he finds work with a wonderful sea Captain who teaches Matthew to read, write and how to run a ship. Before long. Matthew meets Commander Peary who asks Matthew to accompany him on a treacherous excursion to be the first men to reach the North Pole. After many trials, will they be the first to reach the North Pole?

Matthew is a true and honest character who is an absolute delight to read from start to finish. It is based loosely on the historical tale of the real Matthew Henson - the first man to reach the North Pole - but whose story was kept suppressed because of the colour of his skin. This story opens a positive dialogue with young people about racism, prejudice and discrimination. There are plenty of opportunities to discuss how Matthew is treated by others around him and also the context of the time period. Personally, I was found myself really routing for Matthew throughout the story; I wanted him to be succeed. The narrative is delightfully engaging and educational; a historical tale I wasn't familiar with, so found fascinating to read.

Barrington Stoke publish their short stories on thick paper, bigger font and lightly-coloured paper in order to make their novels more accessible to young readers and to help reluctant and dyslexic readers unlock a love of reading.

This is a true success for Catherine Johnson with another successful historical fiction text.

96 pages / Reviewed by Joanna Hewish, teacher.
Suggested Reading Age 9+
Other titles