Radio Boy (Radio Boy, Book 1)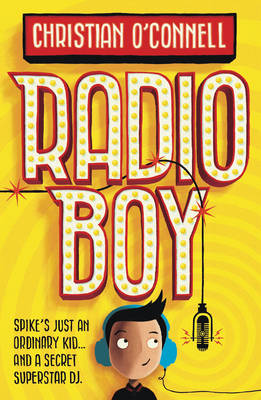 By Author / Illustrator
Christian O'Connell
Genre
Adventure
Age range(s)
7+
Publisher
HarperCollins Publishers
ISBN
9780008183325
Format
Paperback / softback
Published
26-01-2017
Synopsis
From leading breakfast radio star Christian O'Connell comes a brilliant and laugh-out-loud story of an ordinary boy with an extraordinary secret radio show. (Broadcast from his shed.)
Meet Spike, aka Radio Boy: a new Adrian Mole on the radio for the internet generation.
Spike's your average awkward 11 year old, funny and cheeky and with a mum to reckon with. When he becomes the first presenter ever to be sacked from hospital radio, he decides to carry on from a makeshift studio in the garden shed, with the help of his best friends Artie and Holly, disguising his voice and going by the moniker Radio Boy.
Week by week, word gets around and soon Spike is a star... if only people knew it was actually him. When Spike begins to believe his own hype, and goes too far with his mocking of the school headmaster, a hunt is launched for the mysterious Radio Boy.
Can Spike remain anonymous? Will he get to marry the girl of his dreams, Katherine Hamilton? Will he become famous and popular? The answer to most of these questions is no...
Reviews
Jane
Radio Boy, by DJ and stand-up comedian Christian O'Connell, is a funny and also very real story about friendship, homework, and following your dreams. 11-year-old Spike's favourite hour of the week is when he's running his hospital radio programme, so when he loses his programme, he's devastated. His friends and father step in to help him realise his dream, and a teacher persuades him that he can do it. So Spike ends up with his own radio studio in the garden shed, from where he runs his programme as Radio Boy with two friends. The programme is rebellious and a huge success - but Spike has kept his identity hidden, so the big question is - who IS Radio Boy? When the radio show goes too far in lampooning the school's headmaster ('Fishface') and leads to rebellion among the pupils, things get serious and Radio Boy has to make decisions about the kind of person, and friend, he wants to be. This story has plenty of heart and the scrapes that Spike gets himself into as fame goes to his head are very funny and also realistic. The story shows that following a dream takes hard work and commitment as well as flair, and I'm sure that all the extra details about setting up a studio will have many children wondering about starting their own broadcasng projects! I look forward to finding out about what Radio Boy gets up to next. 360 pages / Ages 8+ / Reviewed by Jane Allen.
Suggested Reading Age 7+
Other titles