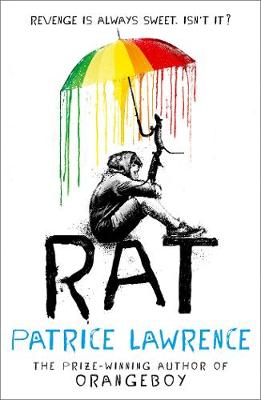 By Author / Illustrator
Patrice Lawrence
Genre
Social Issues
Age range(s)
11+
Publisher
Oxford University Press
ISBN
9780198494935
Format
Mixed media product
Published
07-01-2021
Synopsis
When his mum is sent back to prison, Al knows exactly who's to blame. Mr Brayker, who lives downstairs, has been making trouble for Al's mum ever since they moved in, and Al's determined to get his revenge. Ignoring advice from his gran and sister, Plum, Al takes things into his own hands with a plan that involves the only two creatures he can rely on: his pet rats, Venom and Vulture. But things don't turn out exactly as he'd imagined ...Written by award-winning author, Patrice Lawrence, this is a moving story of community, loneliness, and how you never quite know what's going on in someone else's life.
Reviews
Stephen
Having moved to yet another house on another estate, with no friends except his pet rats Venom and Vulture, Al really wants to stay here, but that depends on his mum who is just out of prison, and a situation in a local shop involving their downstairs neighbour, Mr Brayker, soon puts her back there. As far as Al is concerned Mr Brayker is to blame and Al is determined he will take revenge on him no matter what his gran, sister or neighbours say. With two rats to aid his cunning plan, what can go wrong?
Rat is an excellent gritty and urban novel. Cleverly written by Patrice Lawrence, the story took me on an emotional roller coaster of a read! Following young Al as he tries to make sense of everything that is happening around him was really interesting and what came through the novel was the love that Al has for his mum, which is why he seeks revenge on his neighbour for the shop incident.
While reading Rat, I felt I was getting an insight into a teenage mind dealing with situations I know nothing about and hope kids who read this get the same or perhaps relate to the situations Al is dealing with. His gran and sister are brilliant characters too both dealing with their own backgrounds, and the linking of some of the characters in the story was very clever! A very thought provoking read.
152 pages / Ages 11+ / Reviewed by Stephen Leitch, school librarian
Suggested Reading Age 11+
Joanna
An evocative story about teenage angst in a mixed up world, where the people you love are taken from you and only you can make it right. Rat is a story that will stay with you for a while. With very realistic characters, it deals with issues of child poverty, broken homes and how love can be found in the smallest of places.

Rat tells the story of Al, an early teen who lives with him mum and his two pet rats. Al's mum has just come out of jail and must stay clean in order for Al to continue to live with her. But after a mix up at the local supermarket, Al's mum is accused of stealing and injuring a security guard so she is sent back to jail. Al's older sister, Plum, comes to live with Al, but all Al can think about is getting revenge on the person who got his mum wrongly sent back to jail - Mr Brayker - who lives downstairs. Al is full of fury and carefully plots his revenge. The only things that keep him calm are his two pet rats - Venom and Vulture. Soon Al learns the one thing Mr Brayker is truly terrified of - Rats!

Author Patrice Lawrence immediately launches you into the world of Al - no food, hunger and a mother who lays on the sofa. Lawrence skilfully shows the emotions of Al and we immediately feel sorry for him. Al is a complicated character with lots of emotions and Lawrence carefully depicts how Al deals with these feelings. Al's relationship with his rats and the importance of them to him, highlight Al's mixed up world and the only thing that remains constant. However, the beauty of this book is it teaches young readers that things can get better and that anger and revenge aren't the right way to deal with your emotions. There a lovely message of community and support through a mixed variety of characters that we meet along the way and Al learns first-hand the importance of friendship and reaching out for help when you need it.

Published in association with Barrington Stoke, this book is accessible for all readers, with larger font and sepia paper.

152 pages / Ages 11+ / Reviewed by Joanna Hewish, teacher
Suggested Reading Age 11+
Julie
Al's life has been tough. He and his mum Ramona have moved around a lot and she has just been released from prison. They find themselves in a flat in a tower block in London. Al is hoping that this will be a new start for him and his mum. Al doesn't have any friends, except for his two pet rats Venom and Vulture. Al adores his rats, and they give him comfort when times are hard. However, with very little money and without a job, the new start is short-lived when Al's mum is arrested and sent back to prison. Al's world comes crashing down around him and he vows to take revenge on his neighbour Mr Brayker who he blames for his mum being arrested and sent back to prison. Plum, his sister steps in to take care of him, but little does she realise the extent to which Al is planning to take his revenge out on Mr Brayker.

Rat is an extremely thought-provoking book. It explores the life of Al and his mum Ramona and how her being sent to prison impacts his whole family and all their lives. The story is told from the perspective of Al. Here the reader gets an insight into how hurt and betrayed he feels and why he must act out his revenge on Mr Brayker.

Rat is part of the new Super-Readable Rollercoaster series from Oxford University Press in association with Barrington Stoke. It is a book for everyone, especially for those young people who struggle to read or who struggle to find a story that they can really engage with. There are so many features jam-packed into this new series that the books will engage and appeal to all types of readers. The additional content will also help those young people who may have a barrier to reading.

The font and layout is in the Barrington Stoke style which is dyslexia friendly. The text is well spaced out and is printed on buff coloured paper. The chapters are short and will leave the reader wanting to read on. However, this series offers the reader so much more and this is due to the fabulous content that has been included at the back of the book. The author's notes give us a real insight into the background of the novel. It has a handy section on who's who so that readers can recap on the characters. I also liked that they have included a comprehensive word list that allows the reader to check their understanding of the text.

This series would work so well with either a reading group or with a student on a one-to-one basis. The style and content are ideal for building confidence and reading stamina. The additional material in the book includes a quick quiz which will help to check a students' understanding and it also has a section asking What do you think? Again, a great feature that will enable lots of discussion opportunities centred around the main themes and issues raised in the book. Another highlight that I thought was so simple yet effective was a page giving suggestions on what to read next. This is great for helping to encourage students to continue with their reading journey. The series is also accompanied by free online teaching resources, again this allows for further exploration of the text.

Rat is part of a fantastic new series of books that includes work by award-winning and best-selling writers, Anthony McGowan, Phil Earle and Michael Wagg. Not only are the stories engaging and thought provoking, but the additional content is so well placed and thought out that it will benefit any reader that chooses to read these books. I cannot wait to share them with my reading groups at school.

152 pages / Ages 12+ / Reviewed by Julie Broadbent, school librarian
Suggested Reading Age 11+
Other titles