Resist: One Girl's Fight Back Against the Nazis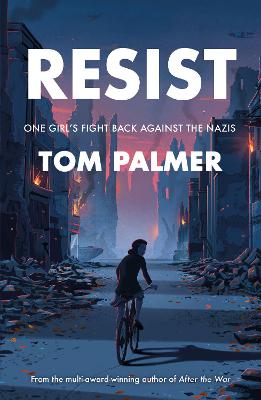 By Author / Illustrator
Tom Palmer, Tom Clohosy Cole
Genre
Historical Fiction
Age range(s)
9+
Publisher
Barrington Stoke Ltd
ISBN
9781800901063
Format
Paperback / softback
Published
04-08-2022
Synopsis
As the brutal Second World War stretches on with no end in sight, life for ordinary Dutch people in the Nazi-occupied Netherlands is fraught with peril and hardship. There is very little to eat and the population lives under the constant threat of arrest and enslavement.   After the murder of her beloved uncle and the capture of her brother by the Germans, Edda is determined to do anything she can to help the resistance fight back against their oppressors. But what can a teenage girl do and how much risk is she willing to take?
Award-winning author Tom Palmer shines a light on the incredible work of the WWll Dutch resistance, in a story inspired by the childhood of Hollywood legend Audrey Hepburn.
Reviews
Joanna
Resist is a brilliant story to teach children and young adults about the severity of World War II without frightening them with all the gory details; the imagined story of young Audrey Hepburn. Little is known about her younger years, but Tom Palmer (author) has pieced together a fictional story based on what he thinks she would have suffered during that time. From a few interviews and other sources, it is believed that Audrey Hepburn would have been forced to live in deprivation, struggling with severe starvation and never knowing when the Nazis would attack.
Audrey Hepburn was born to an English father and Dutch mother. Audrey loved to dance and was already showing signs of talent. When War broke out, her parents thought she would be safer in the Netherlands with her mother, two brothers and her grandfather. However, after returning to the Netherlands, Audrey (under the more Dutch name Edda) soon realises the horror of war. She becomes determined to resist the Nazis and puts herself in danger as she helps the resistance movement. Audrey (Edda) helps by sending out leaflets to locals supporting the resistance; she hides an English pilot in her house; her family house over 40 refugees and Audrey (Edda) helps American pilots who land in a nearby forest. With English as her first language, Audrey (Edda) is valuable to the resistance, but as a young and attractive 16-year-old, she soon attracts the attention of the Germans.
This book tells the moving story of Audrey Hepburn before she became a Hollywood sensation. Even without the knowledge that this is the story of a young Audrey Hepburn, it is a moving and fascinating story about how people suffered and survived during the War. It opens your eyes to all that young people had to sacrifice and everything they lost during these years. The author does this with sensitivity and compassion, carefully relating the horrors people suffered whilst also delicately telling his story to a younger audience.
My eight-year-old son read this book in two days and had so many questions by the end. This is the first time he has read anything about the war and it opened a dialogue between us to learn about the war. A fantastically well-written, emotional story that would make an excellent year 5+ class read.
208 pages / Reviewed by Joanna Hewish, teacher
Suggested Reading Age 9+
Other titles