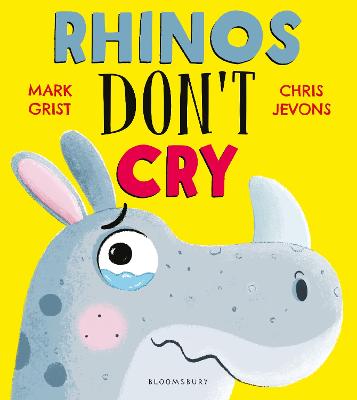 By Author / Illustrator
Mark Grist, Chris Jevons
Genre
Mental Health & Wellbeing
Age range(s)
3+
Publisher
Bloomsbury Publishing PLC
ISBN
9781526628992
Format
Paperback / softback
Published
20-07-2023
Synopsis
Milo's a rhino.
He likes to do all sorts of rhino-y things . . .
He likes writing and climbing
and banister-sliding
and mountain bike riding,
he paints and he sings.
Milo just loves being a rhino - but there's one small problem . . . rhinos don't cry.  At least that's what Spike-O Mcree, his movie-star hero, always says. But when Milo meets Spike-O face to face, he finds out that not only is crying OK, it's also very brave!
This energetic and engaging rhyming story is the first in a series of books highlighting the importance of children expressing their feelings.  Mark Grist is a multi-award-winning poet and international battle rapper with over 40 million views for his poetry and rap videos online.
Reviews
Ashley
Rhinos Don't Cry is a lovely picture book which I read to my reception class. It is a story that will help children to talk about their feelings, and to acknowledge that it is OK to cry. It has lovely colourful illustrations and a simple rhyming text, and I always love a story which rhymes, as do the children!
The message in the story is an important one for children to understand, but the book also has a few funny moments as well. The children laughed out loud at some of the antics in the book! We discussed times the children had cried, both happy and sad tears, and we all agreed at the end of the story that rhinos should all definitely be allowed to cry!
Picture book / Reviewed by Ashley Clayton, teacher
Suggested Reading Age 5+
Jen
Milo the rhino is a happy rhino who loves being busy doing rhino things with his cat Pickles, but he believes rhino's do not cry. This is all because his favourite movie star had said so in one of his favourite show. Milo tries really hard to live up to this. However, as everyone knows, we all need to cry sometimes.
Rhinos Don't Cry is a great way to talk to children about emotions and how we show them. Milo thought he could not show his emotions when he was sad or hurt. Children need to understand that we all have emotions and we need to learn how to show these.
I loved sharing this book with my class, of 5, 6 and 7-year-olds, as it sparked a long conversation about how we are all allowed to cry. We also talked about how, over time, our options can change and we can see how wrong we were in the past. The sad picture on the front drew me to the book before I had even read the title. The bright, engaging pictures make it a book your young one will want to read again and again.
Picture book / Reviewed by Jen Bevan, teacher
Suggested Reading Age 3+
Other titles