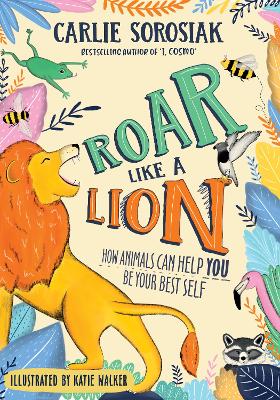 By Author / Illustrator
Carlie Sorosiak, Katie Walker
Genre
Personal Growth
Age range(s)
9+
Publisher
David Fickling Books
ISBN
9781788452359
Format
Paperback / softback
Published
07-10-2021
Synopsis
'Inspirational, uplifting and an utter delight' M.G. Leonard, author of Beetle BoyLife can be tricky. You have school, homework, hobbies and friendships to juggle . . . and all the time you're trying to work out what sort of person you want to be.Do you know who can help you?A lion. A koala. Even . . . a wombat.Animals have so much to say about how to be brave, confident and kind.So step into the wild, listen to the animals around you . . . and learn how to be the best YOU you can be!
Reviews
Jo
Carlie Sorosiak has written a fun and quirky guide to well being and life in general. Uniquely, Roar Like a Lion uses the animal kingdom to draw parallels between the difficulties that we face as humans and those presented to our close relatives in the animal world. Using charming, pastel-coloured illustrations and bite-sized information, this is a book to get lost in.
Cleverly drawing on the different qualities, skills and personalities of various species of animals, Roar Like a Lion demonstrates how we can learn from nature and overcome our problems, fears and doubts. Aimed at children, this approach enables important messages to be conveyed in a friendly, interesting and enjoyable format. There is an informal, chatty tone to the author's voice and this allows the reader to view the book as a friend.
I really liked the depth of fascinating facts (who know that otters wrap their babies in seaweed to stop them floating away!) and the way in which we are gently introduced to the difficulties that we all have to face; this is then reflected with reference to animal behaviours and coping strategies. By using examples such as standing in front of the class to give a presentation, walking in to a room of strangers or even doing a charity run, everyone will find something that they relate to which makes the whole book accessible and approachable.
It is a book that roars the message 'anything is possible'; a kind book full of encouragement to help children and teens through the difficulties of growing up.
160 pages / Reviewed by Jo Clarke, teacher
Suggested Reading Age 7+
Other titles